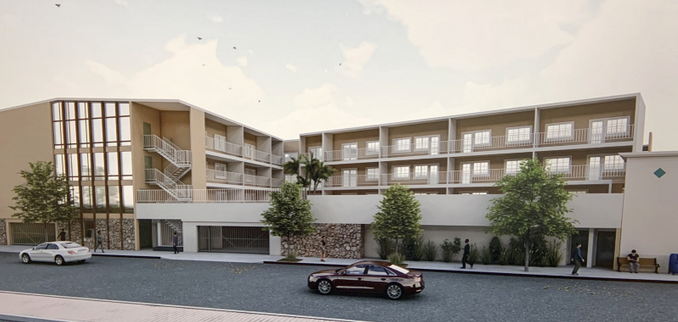 BY EMILY MIBACH
Daily Post Staff Writer
A Redwood City apartment complex that burned down seven years ago may be resurrected in a year.
The 72 apartments may be back in as soon as eight months, said Mark Hyatt, the developer of the Hallmark House Apartment complex at 531 Woodside Road.
The COVID-19 stay-at-home order has mostly halted construction. Construction contractors and subcontractors are eagerly looking for work, Hyatt said.
Construction can occur on the Hallmark House Apartments because the entire complex is for low income earners. Hyatt and his team have worked with the city to limit construction to Monday through Friday from 8 a.m. to 5 p.m. Typically, construction is allowed in Redwood City on weekdays between 7 a.m. and 8 p.m.
City Manager Melissa Stevenson-Diaz noted that because of so many people being home, they wanted to be sensitive about the noise coming from the construction site.
There will be 22 apartments reserved for the elderly or very low-income earners, meaning they make 50% of the area median income. This means a family of four would make $80,600 annually.
The other 50 apartments would be for low income earners, meaning they make 80% of the area median income. This means a family of four would make $101,630 annually.
City Council on Monday unanimously agreed to some changes to the loan it gave Hyatt's Hallmark 2017, extending the affordability of the apartments to 2075, instead of 2059.
The Americans with Disabilities Acts delayed the project. The apartments received initial approval from the city, but that go-ahead lapsed in 2017. When the developer re-applied for permits, the ADA had been updated, which meant the plans had to be changed. That pushed the process back.
The complex burned down in a six-alarm blaze on July 7, 2013. It sent 21 people to the hospital and killed one man. A total of 97 people were left homeless. More than two dozen residents filed lawsuits against KDF Hallmark, the owner of the complex.
According to court documents, the residents' lawsuits were dismissed on Aug. 14, 2015. The terms of the settlement were not disclosed. The reconstruction, which has been put off many times, is expected to take one year once started.