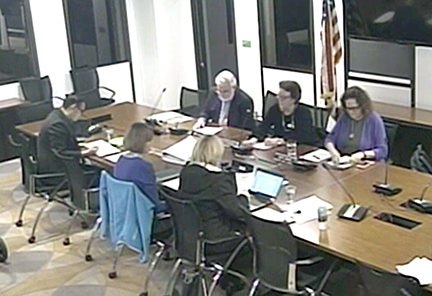 This story was first printed in Monday morning's Daily Post. Only a fraction of the local news stories covered by the Post are posted online. To get all of the local news, pick up the Post every morning at 1,000 Mid-Peninsula locations.
BY ELAINE GOODMAN
Daily Post Correspondent
Palo Alto's Human Relations Commission may need to work on relations among its own members, following the panel's acrimonious debate over who should serve as its chairperson for 2020.
Although two commission members — Steven Lee and Kaloma Smith — were nominated for chairperson, neither could muster the four votes needed to secure the position during the group's meeting on Thursday (link to video). The commission will try again to choose a new chairperson next month.
The City Council-appointed Human Relations Commission tackles issues such as homelessness, teen vaping and inclusive programming in the city's Community Services Department.
Despite the commission's benevolent goals, bitterness punctuated last week's meeting. Commission member Patricia Regehr accused Chairman Gabriel Kralik of patronizing her. And Smith said commission members were "throwing barbs" at him after questions arose about his attendance record on the commission.
"Criticism is critical, but we repeated it six or seven times," Smith said. "At what point does that criticism become an attack?"
Smith is pastor of University AME Zion Church of Palo Alto, the city's oldest black church. The church was in the news last month after a vandal spray-painted graffiti there, including the words "F*%# God." In response, Smith held a service called "Sunday Solidarity" on Jan. 5, which drew a standing-room only crowd.
Two nominations for chair
On Thursday, Human Relations Commission member Daryl Savage nominated Smith for commission chairman, saying "the time is right," particularly since Smith is receiving attention following the incident at his church.
"I saw him leading his congregation at his church last week and I was blown away," Savage said. "There must have been more than 300 people there, and he had the ear of everybody. He is a visionary."
HRC member Regehr on Thursday nominated Lee to serve as commission chairman. Lee is active in the community and is well known, she said.
"He shows up. He hasn't missed a meeting," Regehr said of Lee. "He's very thoughtful. … Contrary to what I had heard, I think that he really is a team player."
The commission's first vote failed to produce a new chairperson, who would need to receive four votes. How each commission member voted was not revealed. Only five of the commission's seven members attended last week's meeting; Valerie Stinger was absent and vice chair Qifeng Xue recently resigned.
Kralik, the current chairman, asked Smith if he'd consider serving as vice chair rather than chairman for this year. Kralik pointed out that Smith had nominated Lee to serve as chairman last year.
Regehr seemed to support that idea.
"I haven't seen you here very often. … I want to see someone on the Human Relations Commission that is going to show up, that is going to be involved," Regehr said to Smith. "Be vice chair, and then you can be chair next year, when you have shown that you're coming to meetings, that you're participating, responding to emails."
According to a review of meeting minutes and videos, Smith missed seven of the 14 HRC meetings from January 2019 through this month. Stinger has missed two of the 14 meetings, while Lee and Kralik missed none.
Regehr and Savage missed one meeting each since joining the commission in June.
Smith defends himself
Smith said that focusing on his recent absences didn't represent his "body of work" in the community. Smith said he worked with the HRC for years even before becoming a commission member. And he's now ready to take on a greater leadership role with the commission, Smith said.
"The one thing that I've proven in the city so far, is anything that I've dedicated my effort and time to has been transformative for this community," he said.
Lee also pointed to Smith's absences while explaining why he would be a good commission chairman.
"Not only did I show up and be prepared and ask good questions and participate, but I led or co-led the initiative on most of the things that we would consider accomplishments," Lee said. "I think that I've mobilized a lot of people in the community to support us on some of those issues. I think I've raised the visibility of the commission. A lot more people know about the work that we are doing."
Last week's meeting also revealed tensions between Kralik and Regehr, who snapped at Kralik repeatedly during the discussion. At one point, after Regehr said it would be a win-win no matter who was selected as chairperson. Kralik asked Regehr if she might change her vote.
"I think it is unfair for you to say that only to me and not to Daryl (Savage)," Regehr retorted.
Patronizing behavior alleged
And before the commission cast its final vote of the night on the chairperson position, Kralik asked Regehr if she wanted to make a few comments.
"When you say things like that, Gabe — 'few comments' — I didn't hear you say it to anybody else," Regehr said. "And once again I feel … very patronized by your comments towards me."
Toward the end of the discussion, Smith told his commission colleagues that they had been "throwing barbs at me for the last 25 minutes."
"That means that this commission needs leadership, if we're going to spend a meeting attacking one of us and then acting like the victim after the person is attacked," Smith said.