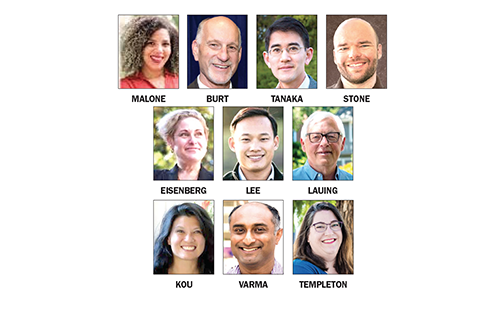 BY ELAINE GOODMAN
Daily Post Correspondent
Most of the 10 candidates running for Palo Alto City Council said last night that they support some form of a new tax on businesses, although some said the tax should be postponed until the economy recovers.
"Right now is not the time to be implementing a business tax, in the middle of a pandemic," said candidate Greer Stone, a high school teacher. "But when we emerge from this economic crisis, absolutely we should be instituting a business tax."
Former Mayor Pat Burt is a proponent of a business tax, but also said it would be best to wait. Burt said he's leaning toward a tax on square footage a business occupies, similar to what East Palo Alto recently implemented.
"This is about big business paying their fair share to mitigate the impacts they create," Burt said.
Candidate Steven Lee, who has served on the city's Human Relations Commission, had a different perspective on the timing of a business tax. Lee said the city should tax large businesses that have been profitable during the COVID-19 pandemic.
"Now, more than ever, we need those who are doing well to step up and help us get through this COVID-19 time," Lee said.
The comments came during an online candidate forum sponsored by the Palo Alto Chamber of Commerce and the Palo Alto Rotary Club. The 10 candidates, including two incumbents, are running for four seats on the council in the Nov. 3 election.
The candidates' first question of the night was about whether they supported a business tax. Only one candidate said he was opposed.
"This is not the time to increase taxes on businesses," said candidate Ajit Varma, who noted that the world had changed dramatically over the last six months. "So I am not in favor of a head tax, I'm not in favor of a square footage tax."
Instead of a tax, Varma said the city should negotiate with businesses that want to have offices in Palo Alto to provide market rate or affordable housing. Varma is product director for WhatsApp, which is owned by Facebook.
Incumbent Greg Tanaka didn't completely rule out a business tax, but said the city should first explore other strategies for increasing revenue. He said one example might be leasing city-owned property. Tanaka said the council should also look at trimming city government to save money.
But Tanaka also said the city could work with businesses "when the time is right" to see what type of tax would make sense.
Ed Lauing, a member of the city's Planning and Transportation Commission, said he supports a modest business tax, and that he's leaning toward a tax based on employee count.
"The idea here is not to get outrageous around chasing people away," Lauing said. "The idea is to raise money for important things that they should want, which includes affordable housing."
Incumbent Lydia Kou said she'd like to further explore a head-count or square-footage tax on businesses. The council voted in March not to put a business tax on the ballot this year, in light of the pandemic.
Candidate Rebecca Eisenberg, who is a lawyer, said the city should tax large businesses and use the funds to help small businesses survive.
Cari Templeton, another member of the city's Planning and Transportation Commission, said she finds the idea of a business tax intriguing. She said the key would be working with business leaders on an agreeable solution.
And Raven Malone, a Black Lives Matter activist, said she supports exploring a head-count or square-footage tax, while making sure small businesses aren't hurt.
Candidates were also asked to describe in one word or phrase, or a single sentence, their position on growth and development. Their responses were:
• Burt: Balanced and sustainable growth with infrastructure and transportation support with it.
• Eisenberg: Inclusion and housing.
• Kou: Sensibly and wisely.
• Lauing: Thoughtful and very much favoring affordable housing.
• Lee: We have a responsibility to build more housing.
• Malone: Pro-diversity.
• Tanaka: Listening to all sides to make decisions.
• Stone: More housing, less office.
• Templeton: Green.
• Varma: Significant growth in the right areas.
On the issue of police reform, many of the candidates said using mental health or social workers rather than officers to respond to certain types of calls would be a good move. Tanaka said it will be important to see measures of the effectiveness of different models of policing before deciding which one is right for Palo Alto.
Eisenberg said the Palo Alto Police Department "has a proven record of brutality against people of color."
"The system is broken and it requires big structural change," she said. "We need to take control of the PAPD. We are the boss of them."