BY EMILY MIBACH
Daily Post Staff Writer
An East Palo Alto man is facing additional charges after he threatened a man he had robbed and was in possession of guns when he was prohibited from doing so, authorities said.
Sheriff's deputies arrested Hector Guzman-Alcantar, 21, on Friday in Milpitas, according to a statement from Sgt. Joe Cang. When he was arrested he had an AK-47 and ammo, according to Cang.
A warrant had been issued for Guzman-Alcantar's arrest because he had contacted a man he had robbed and pistol-whipped on Dec. 24, 2017, at a house party in west Menlo Park, according to District Attorney Steve Wagstaffe.
After the robbery at the party, the victim, one of Guzman-Alcantar's former classmates from Palo Alto High School, got a restraining order from Guzman-Alcantar, who had bailed out of jail on a $100,000 bond.
On Aug. 2, Guzman-Alcantar followed his victim from the victim's parents' home to the victim's apartment. When the man got out of his car, Guzman-Alcantar said from his car, "Hey I want you to drop the charges," according to a document filed in court today.
As the two spoke, Guzman-Alcantar repeatedly mentioned that things could get "complicated" because he knows where the victim's parents live, according to the filing.
The man got Guzman-Alcantar's phone number and reported the encounter to police, who then got a warrant for his arrest.
On June 5, Guzman-Alcantar was pulled over in Menlo Park for having incorrectly tinted windows, and the officer noted the driver, later identified as Guzman-Alcantar, was making "furtive" movements, according to the filing.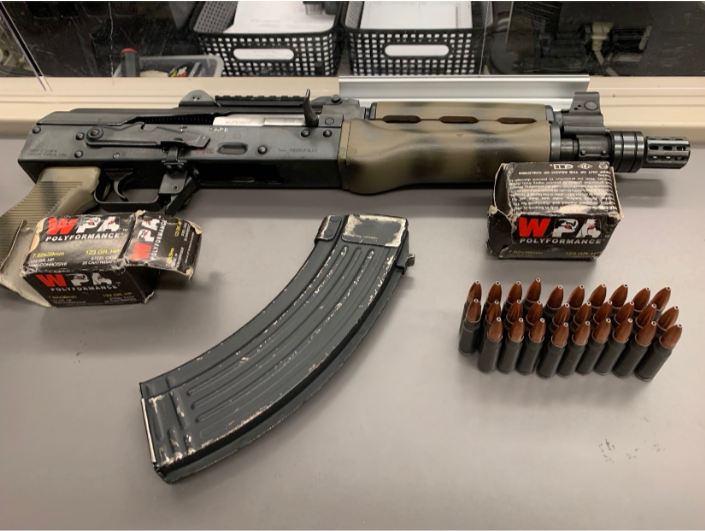 During a search of Guzman-Alcantar, officers found a stun gun, pocket knife, an extended Glock magazine, and a loaded Glock in his belt.
The gun appeared to be stolen, and he was arrested.
But because the sheriff is trying to keep the jail population low to prevent the spread of COVID-19, Guzman-Alcantar wasn't locked up. He was given a ticket and let go.
The filing also discussed an encounter between the victim and one of their mutual acquaintances, where he tried to talk the victim out of testifying in court.
Guzman-Alcantar appeared in court today because the DA's office wanted to increase his bail and put him in jail.
Judge Stephanie Garratt approved increasing Guzman-Alcantar's bail to $2 million.
He is facing additional charges of dissuading a witness and carrying a loaded firearm. He will appear in court again on Sept. 29.