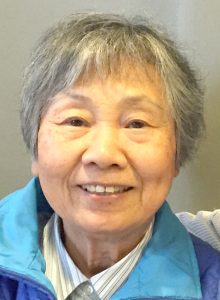 November 24, 1935 – January 5, 2020
Berkeley, California
Amy Chern Chih-Shang Hsi was born November 24th, 1935 in Taipei, Taiwan and passed away with her family by her side in Berkeley, California at the age of 84 on January 5th, 2020. She lived in the Barron Park neighborhood in Palo Alto for 47 years before moving to Berkeley in 2016. She was a loving grandmother, mother, and aunt. She is survived by her daughter, Sherry, and five grandsons, Daniel, Brian, Lucas, Joshua, and Nathan.
Born in Taipei, Taiwan, Amy was mathematically gifted and graduated from a competitive all girls school. She then entered the National Taipei University of Technology, majoring in mining and metallurgical engineering as one of the first cohort of women to enter the school.
She immigrated to the U.S. in 1961 to be with her husband, Huey, who was working as a materials and metallurgical engineer for the rocket industry in East Lake, Ohio. After his untimely death in 1965, she moved the family to San Francisco Bay Area and settled in Palo Alto in 1967.
Amy was a dedicated mother who raised two daughters, Bobbie Hsi (deceased) and Sherry Hsi as a single mother. She was hard working, generous, and energetic. She enjoyed working in the yard, cooking, growing squash, playing games with grandchildren, and attending her grandson's cello concerts.
She died peacefully on Sunday, January 5th, 2020 with her family around her after a heart attack and short hospice at home. Honoring her wishes, there will be no funeral services. Her ashes will be interred at the Alta Mesa Cemetery in Palo Alto.