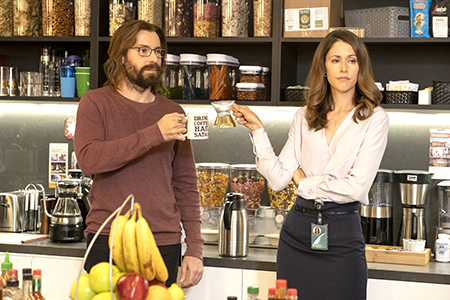 BY JAMIE MORROW
Daily Post Associate Editor
Last night's episode of HBO's "Silicon Valley" took aim at an easy target — big tech's enthusiastic embrace of toothless ethical platitudes. But it was like a sharpshooter aiming for the broad sign of a barn: Yes, the bullets all hit, but who cares? Who can't hit the broad side of a barn?
Much more fun was the Pied Piper office politics subplot in which Monica (Amanda Crew) and Gilfoyle (Martin Starr) band together to overthrow the HR lady's annoying scoring system for managers' people skills. The two characters' chemistry recalled their bonding over good whisky and skepticism in last season's finale. As in that episode, a little bit of sparring turns into a respectful and mutually productive alliance. In this case, they bond over their shared misanthropy.
It's interesting, because Gilfoyle's misanthrophy is expected; he's the stereotypical arrogant programmer who respects machines more than people.
CFO Monica, who came up in venture capital, generally hides it more under a veneer of business manners and business casual — but like Gilfoyle, she has no interest in making nice. And she has no idea how to do it anyway. Her attempts to bond with Pied Piper's workers range from awkward small talk to wearing Princess Leia side buns, and none of it works.
In a neat twist, it's actually Gilfoyle who is savvy enough to make connections when he deems it necessary. Even if he calls it "social engineering."
Do you also hate employee "pulse surveys"? Then you will feel pretty satisfied at Monica's and Gilfoyle's victory cup clink.
'Tethics'
In a bid for relevance, ousted Hooli chief Gavin Belson (Matt Ross) has turned into a tech ethics evangelist, asking companies to sign a high-flown but toothless ethics pledge that's one big list of platitudes (plagiarized from a host of companies from Starbucks to Applebee's.) His brand name for it is cringe-inducing: "tethics." He's ready to break ground on an institute and everything.
Now Gavin is a world-class egomaniac and hypocrite who has never felt an ethical qualm in his life. Pied Piper founder Richard (Thomas Middleditch), who tries hard to live up to his own ideals, is floored that the Valley seems to be taking Gavin seriously. People at his own company are wearing tethics T-shirts. It makes him furious, which makes him stupid.
He should put his ire aside and sign the pledge. It's all stuff he actually believes. He's getting ready to make a massive deal to partner with AT&T, and when he makes trouble publicly, the AT&T lawyer reads him the riot act:
"Loudmouths like you got up in front of Congress and whined about how someone needed to do something about big tech. And now Gavin has managed to paint himself as that guy. And we all have to fall in line or we'll be in PR hell. Or worse, we'll face government regulation. … It's totally toothless. Do not f*** this all up over a pointless moral stand."
One disappointing thing about this show is that the characters rarely learn from previous mistakes. I mean, I get it that stock characters are what comedies are made of, but at some point it becomes grating to watch people go through one extreme situation after another because they refuse to wise up.
Repeating mistakes
So, despite promising to sign the tethics pledge, Richard can't leave well enough alone. After ferreting out the plagiarism, he thinks he will gain the upper hand by using Gavin's sins against him. But that backfired with game developer Colin a few episodes ago, and of course it does here, because Gavin is a spite ninja par excellence. Spite is actually his superpower. Next thing you know, Gavin has publicly confessed his hypocrisy … and asked for an investigation from the state attorney general into the many misdeeds of Hooli. Which, of course, now belongs to Pied Piper. The pure, devastating elegance of Gavin's spitefulness has Richard's attorney in awe. "You gotta separate the artist from the art," he says admiringly.
After his confession, the injunction comes down, the massively promising deal with AT&T is on the rocks and once again the company could just die.
Friends in low places
Enter Russ Hanneman, the flamboyant and foul-mouthed billionaire who returns after a few seasons of absence, brilliantly brought to life by actor Chris Diamantopoulos.
He wants to put on "RussFest" in the Nevada desert.
"It's gonna be like Burning Man, except I'll make a (expletive) of money," he says. His Mad Max-like promotional video shows him riding a motorcycle and blowing up hot women in trucks labeled "famine," "racism" and the like.
Is RussFest going to be another Fyre Festival? I will be shocked if it's not.
He wants Pied Piper to provide internet for his desert orgy, and he's imposing a highly unethical deal. He'll blackmail the attorney general into lifting the injunction. And Richard is out of options. So, tethics be damned?
Other notes:
• Best line of the episode: "Tracy, I appreciate you wanting to participate in the world of numbers," Gilfoyle tells the head of HR. "I find it endearing. But yours are horse****. They measure nothing."
• Jared (Zach Woods) is back on the Pied Piper ship and seems to want Holden (Aaron Sanders) out. He is trying to psych him out something fierce.
Email Jamie Morrow at jmorrow@padailypost.com.
Previous episodes this season
• Episode 4 — Programmers try clumsy power plays
• Episode 3 — An industry of backstabbers and cutthroats
• Episode 2 — A billion dollars to violate your principles