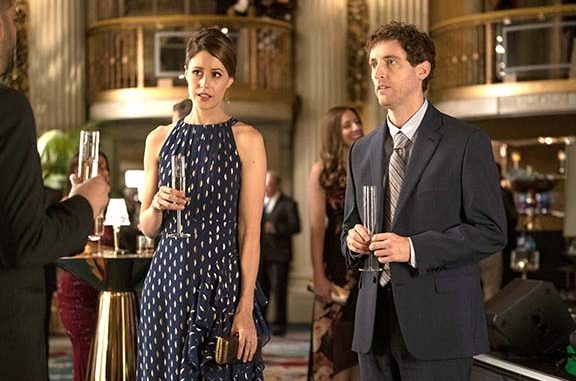 BY JAMIE MORROW
Daily Post Associate Editor
"$50 million sounds great, but it's an awfully low price to pay for your integrity," Pied Piper founder Richard is told in last night's episode of HBO's "Silicon Valley." And he agrees.
But when the number is upped to $1 billion? Straightforwardly titled "Blood Money," the episode presents the startup's struggling leader with his greatest temptation yet.
Pied Piper founder Richard (Thomas Middleditch) is looking for money in the first place because he's determined to stick by his principles of not selling ads to the users of his new peer-to-peer internet or invading their privacy and exploiting them — despite a tool he built in the previous episode making it easy to do just that.
But he's frustrated by his lead development partner, gaming company head Colin. The opening scene shows that Colin has taken Piped Piper's AI technology and used it to make a new version of his game that sells targeted ads in-game and in real time based on what it hears users saying into their gaming headsets. Say out loud that you're hungry? Expect to see a Domino's appear in the medieval fantasy game. Scream in frustration? You'll see ads for calming meds and Massage Envy.
Hating money and needing it
"Money just perverts everything," Richard exclaims. But to get rid of Colin, he needs some. He and CFO Monica (Amanda Crew) go to a charity gala to hunt VCs, but it turns out the denizens of Sand Hill weren't sold on his high-minded principles (which in the last episode he had declared to members of Congress on national television). Set to inspiring music, the speech had been eloquent, and his coders loved it. But VCs? They saw a man committing to a horrible business model and alienating every major tech giant at the same time. They all thought he was the dumbest man in tech, as one VC tells him.
A lifeline
Utterly demoralized, Richard is thrilled to meet and be offered a lifeline by an admiring Chilean billionaire, Maximo Reyes. But Monica informs him that Reyes' grandfather was the chief of secret police under Pinochet. Reyes' family enslaved people to work in mines and executed people in soccer stadiums. "We cannot take blood money," she says. But when the offer is upped to $1 billion — for a 10% stake in the company — the number is so big that Monica loses all her moorings and declares that Richard alone must make the decision.
Of course, how far removed from blood must money be to not be tainted? In the real world, much of Silicon Valley has spent the last year wrestling with the implications of taking millions of dollars in funds from Saudi Arabia. Of course, it was known that Saudi Arabia oppresses women, commits human rights abuses, and has led a civil war in Yemen that has killed thousands of people and caused a famine there. But in October 2018, dissident writer Jamal Khashoggi was murdered and dismembered in the Saudi Arabian Consulate in Istanbul, prompting a wave of backlash and introspection. However, a year later, it seems Saudis are still at least indirectly putting billions into hot tech ventures.
Some seem to believe money is merely a tool or at least will do better in better hands. MIT Media Lab's Nicholas Negroponte, who encouraged the lab's leader to accept donations from Jeffrey Epstein, comes to mind. But it's hard to take someone's money without creating an alliance of sorts.
As the episode ends, Reyes threatens Richard and makes clear that he is an apt heir to his family's fortune. He wants to mine data as well as minerals, and we will have to see next episode if Richard will have the courage to walk away from him.
Hooli CEO in a foxhole
The episode also expertly parodied a real-world example of the perils of foreign ownership in the Valley. Earlier this year, U.S. officials made a stink about the gay hookup app Grindr being acquired by a Chinese company, citing security concerns that the deal gives foreigners access to sensitive information (like HIV status) about U.S. citizens. That resulted in an agreement that the Chinese owner must sell the app by 2020. The U.S. agency involved, the Committee on Foreign Investment in the United States (CFIUS) has been more aggressive when it comes to Chinese investment in tech over the past year, according to reporting by Recode.
Over at Hooli, the show's now much-diminished tech giant, CEO Gavin (Matt Ross) is told by his investors that he has three months to show a profit or he's out. He plans to cut costs by relocating Hooli to Belarus, but two of his minions who don't want to move foil him. Because one of Hooli's properties, Foxhole — basically an Ashley Madison for soldiers in the military — means some very interesting personal info would then be overseas. Enter one four-star general who's a user, and yeah, that plan is toast.
Other notes:
• Best line of the episode is from Gavin: "If we can get close enough to the Chernobyl exclusion zone, it's a buyer's market."
• Richard's run-ins with the VCs who thought he was dumb all took place at a "Hack Famine" gala, where a man on a screen says "Just 39 cents a day can feed an entire family" while guests in tuxes and gowns eat caviar and network million-dollar deals.
• The same gala sees Richard and Monica run into Laurie (Suzanne Cryer), who is now CEO of the Chinese internet company from last season. She's taking it to the U.S., where it could be a new rival for Pied Piper.
• In a surprising subplot, the show's sarcastic, uber-competent coder Gilfoyle (Martin Starr) is thoroughly pwned by the new HR lady. "You're 'that guy,'" Tracy informs him. She's seen his type before, having helped take seven previous companies public. Usually Gilfoyle escalates a conflict until he wins, and he does so here until … she wins.
• Items surrounding Gilfoyle's workstation include "Shadowrun" and "Magic the Gathering: Ravnica" from the Dungeons & Dragons world.
Email Jamie Morrow at jmorrow@padailypost.com. Look for previous reviews at padailypost.com.