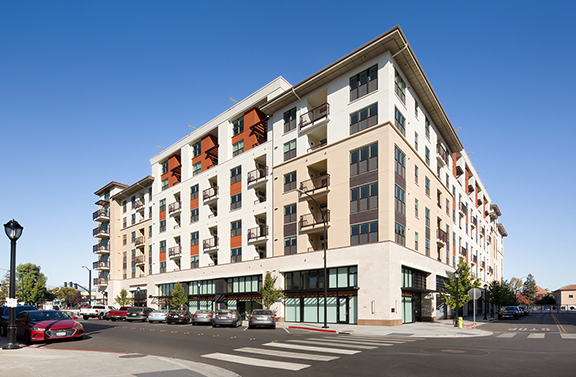 BY EMILY MIBACH
Daily Post Staff Writer
Stanford has bought a 175-apartment complex at Franklin and Monroe streets in Redwood City from Greystar Development to serve as housing for employees and postdoctoral students.
Because Stanford is a non-profit, the Elan apartment complex will contribute less or perhaps nothing to the city, county, local schools and other agencies that receive property taxes. For the city, the hit will be about $100,000 a year. Its impact on the schools wasn't immediately available.
Stanford in a statement said it will work with both Redwood City School District and Sequoia Union High School District on ways to "expand opportunities for students and educators."
Redwood City School District decided to close four schools last November due to shrinking enrollment, which led to decreased funds. The school district receives money from the state based on the number of students enrolled and how many show up to class.
City Manager Melissa Stevenson-Diaz told the Santa Clara County Board of Supervisors in September that the city could lose up to $100,000 yearly in tax revenues if the building is taken off the property tax rolls.
Stanford is offering 138 of the apartments to Stanford employees or students. The other 37 apartments will be deed-restricted for people who earn between 50% and 80% of the area's median income. That means a family of four who earns between $80,600 and $129,150 a year can apply to live in one of the 37 apartments.
Since the project is about a 10-minute walk from the Redwood City Caltrain Station, Stanford intends to have most of its tenants walk to the Caltrain station to catch the train to Palo Alto, or take the shuttle to Stanford's 35-acre campus at Douglas Avenue and Bay Road. When Stanford built its Redwood City campus, it provided no additional housing.
Stanford has already re-named the apartment complex at 1 Franklin Street from Elan Redwood City to The Cardinal Apartments.
Leaving campus
This isn't the first time Stanford has purchased an apartment complex off campus. In 2015, Stanford bought a 167-unit apartment complex called The Colonnade at 4750 El Camino Real in Los Altos, across the street from the San Antonio Shopping Center.
"It did represent a significant impact on our city," Los Altos City Council member Anita Enander told the Santa Clara County Board of Supervisors in September. "Not only did that take $60 million of assessed valuation off of the books to affect our city's taxes and our schools, but that in fact, Stanford has in excess of $100 million of property in the little tiny city of Los Altos that is exempt on the tax roll."
Enander's testimony came during hearings the county was holding on Stanford's request for a permit to build 3.5 million square feet.
Stanford later withdrew its request for the permit four days before the supervisors were to decide how the university should mitigate the impact of its project on housing, traffic and other concerns.
While Stanford has withdrawn the permit application, it continues to build 215 apartments and office space at 500 El Camino Real in Menlo Park and is seeking permission to build 27 homes and 12 apartments near the Alpine Inn in Portola Valley.
Stanford is also buying up single-family homes. Palo Altan Pria Graves, the College Terrace Residents' Association's Stanford Observer, said in a Post guest opinion piece last year that the university had purchased 30 homes.
"Once the university owns these properties, they are only available to Stanford employees and will never again be accessible to the rest of the public," Graves said in the opinion piece.