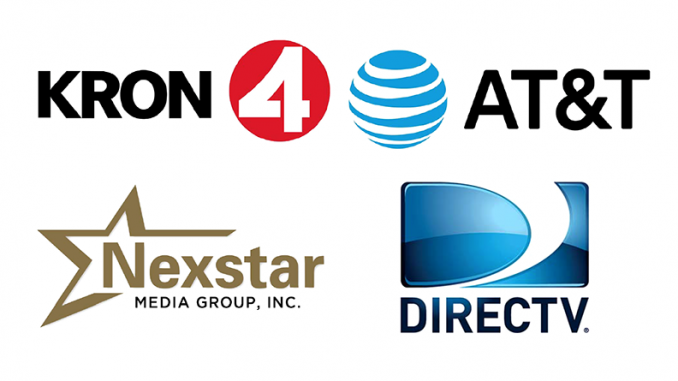 By the Daily Post staff

KRON Channel 4 has gone dark on AT&T U-verse cable and AT&T's DirecTV in a dispute over money.
KRON's owner, Nexstar, and AT&T have not been able to reach a deal on how much AT&T should pay for Nexstar's 174 stations serving 39% of the United States including Channel 4 in San Francisco.
At one time, TV stations like Channel 4 made all of their money from advertising. But today as much as half of a local TV station's revenue comes from cable and satellite services.
AT&T has set up a website devoted to providing its side of the story. It says that Nexstar is "demanding the largest increase that AT&T has ever seen from any content provider."
"We even offered Nexstar more money to keep their stations available. However, Nexstar simply said 'no' and chose to remove them instead. By doing so, Nexstar has put you in the center of its negotiations," AT&T says on its website.
Nexstar, based in Irving, Texas, says in a statement that it was AT&T who pulled the plug on their stations, and quit negotiating.
Nexstar says it has negotiated agreements with cable companies all over the country without a impasse resulting in the shut off of its stations. But Nexstar says that that shutting off stations has been a common tactic by AT&T and DirecTV in such negotiations.
AT&T tells its customers that if they want to continue watching Nexstar stations like Channel 4, they can set up an antenna and pull the signals off the air.
The impasse comes at an awkward time for Nexstar. It is near a deal to acquire Tribune Media for $4.1 billion, which would make it the No. 1 owner of local TV stations in the U.S. But the deal requires the approval of the Federal Communications Commission, which has frowned on broadcasters using blackouts to settle disputes with cable companies.