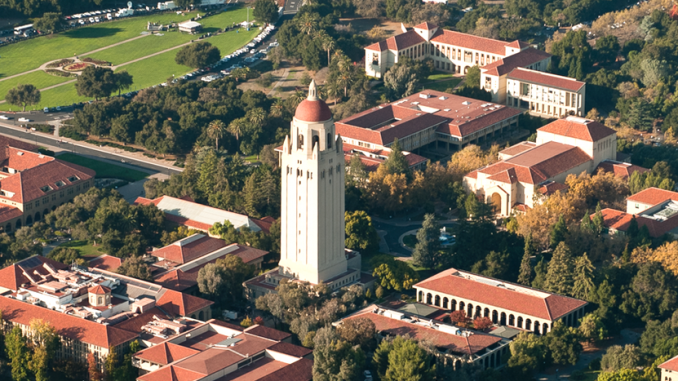 BY ELAINE GOODMAN
Daily Post Correspondent
A local government coalition in San Mateo County said it is looking at ways to force Stanford to address the impacts of the university's proposed 3.5 million square foot expansion.
The coalition fired off a statement on Friday (Oct. 18) saying Stanford has thus far refused to meet to discuss the group's concerns. Called the Coalition for Stanford GUP Accountability, the group consists of officials from Atherton, East Palo Alto, Menlo Park, Portola Valley, Redwood City, Woodside and San Mateo County.
"GUP" refers to Stanford's proposed 2018 General Use Permit that the Board of Supervisors in neighboring Santa Clara County is now considering. Although the growth proposed under the 2018 GUP would occur over the next 25 years in Santa Clara County, the coalition contends that San Mateo County will feel many of the impacts.
"Stanford — with its $26.5 billion endowment — expects to reap all the rewards while leaving local taxpayers grappling with the resulting traffic gridlock, spiraling housing prices, impacted schools and environmental consequences," the coalition said in its statement.
Although the city and county representatives have previously expressed their concerns about Stanford's expansion, their sense of urgency is increasing as the Santa Clara County supervisors are expected to soon vote on the plan.
The group's statement urges Stanford "to hit the pause button" on the approval process in order to negotiate.
"At the same time, we are exploring options to compel Stanford to finally step up and meet what should clearly be the university's moral obligation to its neighbors in San Mateo County," the coalition says.
Next hearing is tonight in Palo Alto
Santa Clara County Supervisors are in the midst of a series of hearings on Stanford's growth plan. The next hearing is tonight (Oct. 22) in Palo Alto at 6 p.m. in City Council chambers. That will be followed by a meeting on Nov. 5 at 1:30 p.m. at the County Government Center in San Jose.
Stanford hasn't completely refused to negotiate with the San Mateo County coalition. But the group said Stanford would only negotiate if the coalition lobbied Santa Clara County to enter into a development agreement with Stanford — which they said would "give Stanford even more benefits than its development application seeks." A development agreement is typically negotiated privately rather than through a public process.
Stanford's proposal is for 2.275 million square feet of additional academic and support space, plus 2,600 new student beds and 550 units of housing for faculty and employees, for a total of 3.5 million square feet of growth.
Supporters of Stanford's plan say the university is stepping up to help address the region's housing shortage.
"The university's plan to deliver enough new housing to fully satisfy housing demand from its academic development demonstrates extraordinary leadership by a large employer in our community," Dilara Soylu of Palo Alto said in a letter to Santa Clara County supervisors.
The supervisors received a slew of similarly worded letters. Supporters also urged the county to work with Stanford on a development agreement, which they said would give the university more certainty on its future growth while providing community benefits.
$196 million for affordable housing
But the San Mateo County coalition wants Stanford to do more. In an April letter to Santa Clara County, city and county representatives asked the university for $196 million for affordable housing in San Mateo County, $4.6 million to improve roads and intersections; $15 million for bicycle and pedestrian improvements; $5 million for flood prevention; and an expansion of Stanford's free shuttle program.
In addition, the group wants Stanford to "provide educational opportunities for communities impacted by its growth." Stanford should also pay $6.78 million each year to local agencies to make up for property tax exemptions the university receives, the group said.
"The time has come for Stanford to pay its fair share," the coalition said.