BY EMILY MIBACH
Daily Post Staff Writer
Palo Alto police, in a crackdown on speeders and other traffic scofflaws, wrote 40% more traffic tickets in 2018 than the previous year, a new report shows.
In 2018, police issued 8,011 tickets, most for speeding, lack of registration or missing tabs and using a cellphone while driving, according to the city's database of traffic tickets written during 2018.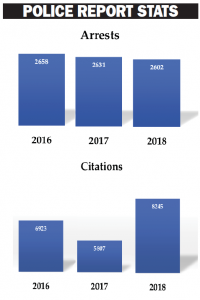 Many of those tickets were issued along Alma Street, El Camino Real, E. Charleston Road, San Antonio Road, Middlefield Road and Embarcadero Road, according to the database.
In 2017, the city issued 5,708 tickets. The tickets were for similar sorts of violations — cellphone usage while driving, lack of registration or missing tabs and speeding.
However, in 2018, there was a bump in speeding tickets — 944 compared to 511 in the previous year, an 85% increase.
Tickets for expired registration or missing tabs also went up, from 1,150 in 2017 to 1,782 last year.
Chief Bob Jonsen brought back the city's traffic patrol in July, staffing it with two officers. Palo Alto police did not have traffic cops for three years, though officers on regular patrol would stop people for traffic violations.
Jonsen told the Post in April 2018 that the visibility of traffic enforcement officers on motorcycles can discourage speeding and other traffic violating and reduces property crime.
"When people see there's people out there getting cited for whatever it is … they start to drive a little more cautiously," Jonsen said at the time.
Traffic citations were the bulk of tickets handed out in 2018, a total of 8,245, according to the city's annual police report.
11 arrests required force
The report also notes that of the 2,602 arrests Palo Alto cops made in 2018, police used force on 11 people.
The Post asked police spokeswoman Janine De la Vega for more information about the 11 use of force incidents, such as when they occurred and what sort of "force" the police used.
However, De la Vega forwarded the Post's inquiry to the department's custodian of records and said the department considered the questions a California Public Records Act request. That gives the city 10 days to respond.
Types of crimes
The report also includes statistics on how many types of crimes occurred in 2018 with a comparison of how many occurred in 2017. In 2018 there were six rapes, and 11 in 2017. There were 38 assaults last year compared to 40 in 2017.
The city saw nine arsons in 2018, up from six in 2017. There were 30 robberies last year, compared with 39 in 2017.
The report says there were 234 burglaries in Palo Alto last year and 1,197 larcenies. There was no break out statistic of car burglaries. In 2017 there were 215 burglaries and 1,477 larcenies.
In 2016, Palo Alto saw 504 reported car burglaries, according to a Post report from 2017.