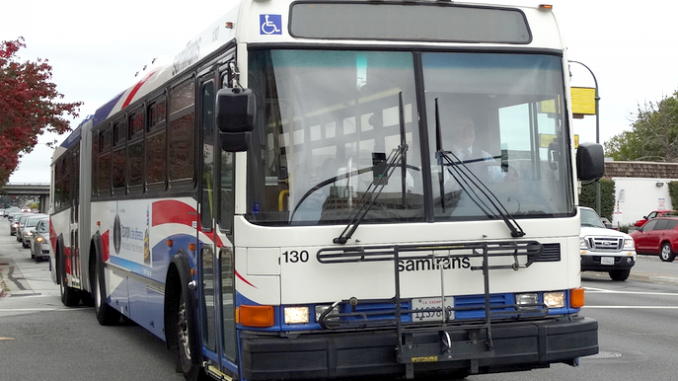 By the Daily Post staff
SamTrans and Caltrain, whose management is housed in the same building in San Carlos, can do a better job of coordinating schedules to reduce wait times for riders transferring between buses and trains, the county civil grand jury said in a report yesterday.
The civil grand jury, a group of citizens empaneled by the Superior Court to investigate government operations, said that reducing wait times would make SamTrans and Caltrain more appealing to commuters.
The grand jury analyzed the schedules of all "Caltrain Connection" and El Camino Real bus routes with Caltrain schedules during commute hours. This analysis showed that 26% of the morning commute bus-to-train connections require a wait time to the next train after arrival of the buses at the stations of 16 to 30 minutes and 20% require a wait time in excess of 30 minutes.
Put another way, only 35% of SamTrans' "Caltrain Connection" buses arrive 5 to 15 minutes before the next train is scheduled to depart. That means 65% of people on the Caltrain Connection buses have to wait longer than 15 minutes for the train.
Reducing wait times might get people out of their cars, the civil grand jury argues. The grand jury's report notes that 71% of commuters drive alone in their cars, another 14% drive with another person. However, the report says that only 3% of commuters use SamTrans buses.
Responding to the report, Caltrain/SamTrans spokesman Dan Lieberman said the bus system links commuters to more than just Caltrain. Also in the mix are BART, VTA, San Francisco Muni, AC Transit at Hillsdale Mall in San Mateo, and the Dumbarton Express in Palo Alto.
But he said SamTrans is conducting a study to find ways to improve bus connections with other transit agencies.
"Ultimately, the (Comprehensive Operational Analysis) will tell us how passengers transfer between routes, between SamTrans and Caltrain, and between SamTrans and BART, so that we can begin to frame and prioritize the route scheduling and transfer points in the system," Lieberman said. "Where possible, the COA will also look at non-traditional mobility service models as ways to facilitate first/last mile connectivity to regional systems."