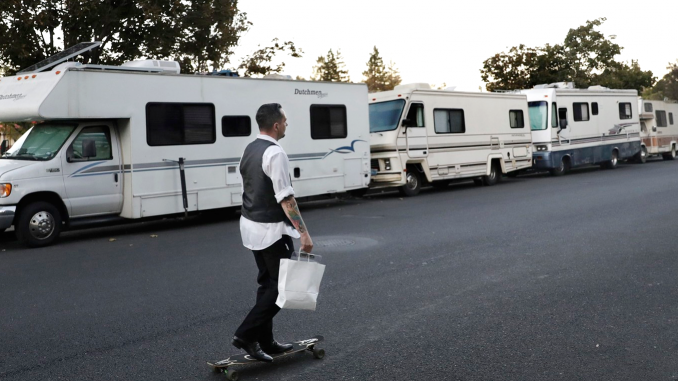 BY EMILY MIBACH
Daily Post Staff Writer
Mountain View has the fourth largest homeless population in Santa Clara County, according to numbers released by the county.
During a one-day count in January, 9,706 people were found to be homeless countywide, a 31% increase from 7,394 in 2017.
Homelessness increased in most cities, including Mountain View, Palo Alto and Los Altos.
Mountain View had 416 homeless in 2017 and 606 in 2019, up 46%.
Palo Alto had 276 in 2017 and 313 in 2019, up 13%.
Los Altos had 6 in 2017 and 76 this year.
There was no breakdown in the report as to where most of the RVs are parked, but Mountain View counts have ranged between 200 to 300 in the last three years, according to the city. The last city count was 171.
Mountain View's city council will be considering banning RVs parked on city streets between 2 a.m. and 6 a.m.
The ban is set to go to council in the fall. At its June 11 meeting, the council agreed to opening two parking lots that would accommodate 60 RVs. The "safe parking program" would open up to 20 RVs at Shoreline Amphitheatre on a temporary basis, and to 40 RVs in a lot at E. Evelyn Avenue and Pioneer Way owned by VTA.
Palo Alto's City Council indicated interest in starting a similar program at its June 10 meeting.
Most homeless people in Santa Clara County live outside, according to the count, at 34% or 3,300 people. Some 22%, or 2,135 live in shelters, 13%, or 1,261, live in "structures not meant for habitation," and another 13% live in other situations.
Aside from Mountain View, San Jose (6,097), Gilroy (704) and Sunnyvale (624) have more homeless.
Some 1,784 people either have temporary housing in a shelter or are in what's called "transitional housing programs," where nonprofits help people find jobs and permanent housing. This is an 8% decrease from 2017, where 1,946 people were in such programs.
These numbers were released some 11 days after San Mateo County released numbers from its homeless count. Those numbers showed that 1,512 people were found to be homeless, a 21% increase from 1,253 in 2017.
Redwood City has the highest population of homeless in the county, at 221. Homelessness appears to have dropped in Menlo Park, according to the report. County volunteers counted 27 homeless people this year as opposed to 47 in 2017.
There are 107 in East Palo Alto, seven in Belmont and 28 in San Carlos.