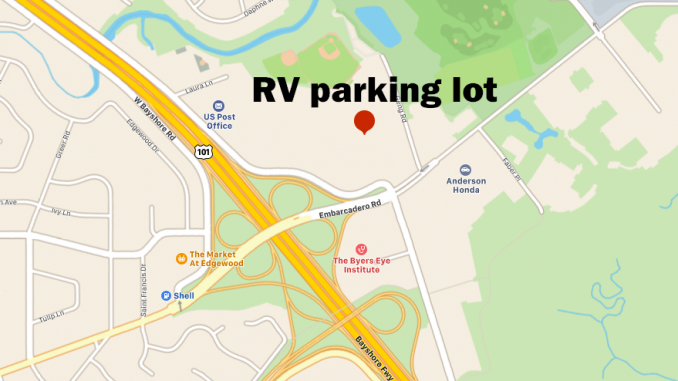 BY SARA TABIN
Daily Post Staff Writer
Palo Alto City Council decided unanimously tonight (Sept. 14) to let homeless people living in cars and RVs park at 2000 Geng Road, near the city golf course, for three years through an agreement with the county.
The same people won't be parked there the whole time if things go to plan. They will get services through the county to try to get them into permanent housing.
County Supervisor Joe Simitian said that even though the parking lot will only have a dozen cars at a time, it might help hundreds of people each year.
"What sounds like maybe a dozen vehicles is really 30 or 40 folks, if you can turn those sites over four or five times a year.. what that means is at the end of the year you have helped 200 folks," he said.
But some people raised concerns about whether Palo Alto has enough affordable housing to get people into permanent residences.
Mayor Adrian Fine said although a similar program that started in December was effective in Mountain View, Palo Alto might have more trouble because the city hasn't been building as much housing.
Councilwoman Liz Kniss said there needs to be a next step and there is no next step without housing. She asked whether people in the program will ultimately have to leave Palo Alto.
The city-owned land at the site was used as a temporary fire station while the city was re-building Fire Station 3 at Rinconada Park. This means there are bathrooms with showers and a kitchen already in place.
Simitian got the funding for the new program.
The lot will be operated by the county through a nonprofit, Move Mountain View, which ran the parking program in Mountain View.
People will be allowed to park all day, but they will have to register with the county's program in order to be allowed to park. City Manager Ed Shikada said in a memo that this will prevent more people living in cars from coming to the location.
The area is close to the Baylands and two private schools, Fusion Academy and Silicon Valley International School.
The city will not have to pay anything for the program but they will lose any income they could have made from renting out the area, according to Shikada.
Councilman Greg Tanaka asked how much the city would have made if it rented the land instead. Assistant Planning Director Rachael Tanner said she wasn't sure.
Councilwoman Lydia Kou made the motion to approve the program. Tanaka tried to make an amendment to allow the city to back out after a year if things don't go well. Kou rejected the amendment, saying the county needs stability to obtain funding. After that everyone voted to support it.
Residents who spoke supported the program, but many said the city needs to do more.
Rohin Ghosh said the fact that the parking program is needed is a poor reflection on the city's housing record.
Kelsey Banes said the people living on the site won't have good access to social services. She said she would like to see a similar program located closer to downtown.
City Council candidates Steven Lee and Rebecca Eisenberg spoke in support of the program.
Eisenberg said vehicle dwellers pose no public safety hazard.