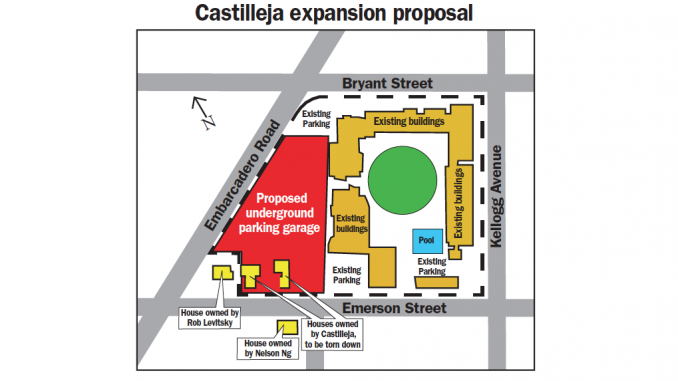 BY EMILY MIBACH
Daily Post Staff Writer
An environmental report for the proposed expansion of Castilleja School on Bryant Street in Palo Alto, which has caused neighborhood strife, is expected to come out by Wednesday (July 17), according to the city.
Castilleja, a 112-year-old girls middle and high school at 1310 Bryant St. that costs $46,115 a year to attend, wants to expand its campus and increase enrollment from 438 to 540 students.
In June 2016, the school submitted requests for new permits with the city to increase enrollment and to redevelop the school. The first phase would include building an underground parking garage.
The project would entail years of construction, including the lowering of the center of campus and the pool to help keep noise down for neighbors and relocating delivery pickups from the street to the garage. Homes at 1235 and 1263 Emerson St., which the school owns, would be removed.
Plans also consist of demolishing at least four buildings and consolidating them into one.
The expansion plan has been met with neighborhood opposition. Shortly after the project was announced, signs popped up around town saying "Stop Castilleja expansion: Protect Palo Alto neighborhoods" and "Castilleja, put your project on hold. Work with residents to find a solution."
School sought restraining order
Earlier this year, Castilleja sought a restraining order against a neighbor who they say has been vandalizing and stealing lawn signs supporting the expansion.
In an email to parents, Head of School Nanci Kauffman said that the police had encouraged the school to get a restraining order against the man after he allegedly trespassed on campus to vandalize and steal the "We Support Castilleja" signs.
After the restraining order, residents Rob Levitsky and Nelson Ng released four security videos showing people knocking over or stealing their signs that oppose the expansion of the school.
The draft environmental impact report is expected to come out by Wednesday. It will be viewable via a link to the city's website, https://bit.ly/2JCB9PE, and will be available at the downtown library (270 Forest Ave.), Development Center (285 Hamilton Ave.) and City Hall (250 Hamilton Ave.).
Public comment for the environmental report will begin on Wednesday and end on Sept. 16. The Planning and Transportation Commission will review the report on Aug. 14, while the Historic Resources Board will look at it on Sept. 12.