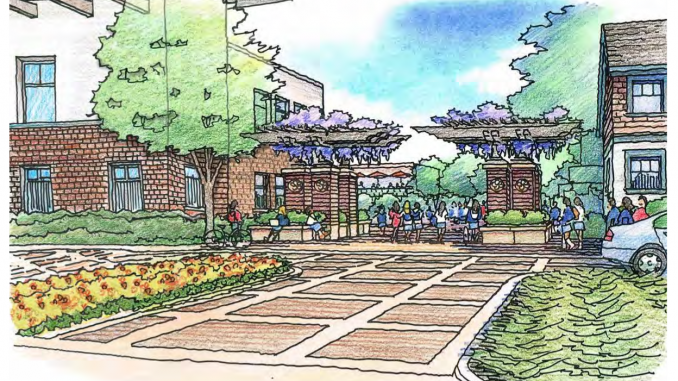 BY JEN NOWELL
Daily Post Correspondent
The city of Palo Alto is getting an earful from residents in response to a city report that determined the traffic caused by the Castilleja School expansion would have a "significant and unavoidable" impact on the neighborhood, yet one resident claims her neighbors are "fabricating" the issues.
Residents Kenneth and Judy Low wrote in a letter to the city that traffic gets worse every year and "it's a daily bear to pass through Embarcadero."
"The traffic congestion can't all be blamed on Castilleja, but adding another 100+ students and new construction is just adding to the serious traffic problems," they wrote.
The city released its draft environmental impact report on Castilleja's proposed expansion project July 17, and the report identified that if the school is allowed to expand and increase its enrollment from 430 to 540 students, traffic is projected to increase 23% from 1,198 to 1,477 car trips a day.
The city started receiving letters from residents in July, and as of Aug. 7, it had received 25 letters with only two in support of Castilleja's expansion project.
Commission hearing set for Wednesday
The Planning and Transportation Commission meets Wednesday (Aug. 14) to discuss the draft environmental impact report and to hear from the public.
While the majority of the letters addressed to the city disapproved of the project, resident Nancy Tuck wrote in favor of Castilleja and its proposal, writing that she has "never suffered a single moment from traffic, noise, or parking due to the Castilleja students or activities. My neighbors are fabricating these issues, and for the life of me I cannot fathom their motives."
Tuck wrote that some of her neighbors can't get over Castilleja's "misrepresentation" of its enrollment from more than a decade ago.
She said she wants girls to have the choice to attend an excellent public school in Palo Alto or a nationally ranked all-girls school.
Enrollment violation
The school has permission from the city to enroll 415 students, but has exceeded that number since 2002. For the 2019-2020 school year, Castilleja will have 430 students.
In their letter, the Lows questioned Castilleja's past behavior of increasing its enrollment over what was allowed in its agreement with the city, calling the act "disrespectful."
"For Castilleja to portray the issues as supporting or not supporting women's education is so disrespectful to Palo Alto," they added.
The all-girls school wants to update its campus by building a new 40,000-square-foot underground parking garage and demolishing five buildings in order to build a new building for classrooms.
The new buildings will result in a loss of 6,649-square-feet above ground, according to the school.
In his letter to the city, resident Bill Schmarzo repeated the draft environmental impact report's claim that the school's expansion project would "cause significant and unavoidable traffic problems especially at key intersections and roadway segments."
However, Lorraine Brown, Castilleja's director of communications and community relations, previously said the school commissioned its own study that showed increased student enrollment wouldn't increase traffic.
She said the school's administration has "more work to do" in order to figure out how to fully mitigate the traffic caused by the project.
Castilleja has already taken steps to reduce the number of cars driving to campus, resulting in more students and employees taking shuttles, Caltrain, walking or biking to the school at 1310 Bryant St.
Schmarzo wrote that Castilleja paid its researchers to create their own numbers to conclude that "the new project and increase in enrollment to 540 students wouldn't increase rush hour traffic."
"Castilleja is teaching (its) girls a very important lesson: if you don't like the facts, then lie to create your own alternative facts," Schmarzo wrote.
Resident urges school to reduce enrollment
Resident Jim Poppy, who wrote a total of four of the 25 letters the city received, asked the city to fix the problems now, and "ask Castilleja to remove the garbage from their plans and accept a smaller increase of enrollment."
Resident Jo Ann Mandinach wrote that Castilleja has been in violation of its enrollment cap for years.
"…They shouldn't be rewarded for their illegal conduct," she said.
Mandinach told the city to say no to more traffic.
"Have you seen the ludicrous gridlock that sends us miles out of our way?" she asked.
Resident Diana Darcy wrote that since the draft environmental impact report was released it is now clear that the school's expansion would cause "many problems" for the city with "no clear benefit."
"Our city must require rules to have been followed prior to considering the request of any person or organization," resident Tim Edmonds wrote. "And, extra attention must be paid (to) those who choose to ignore the current rules and then hide their violations from our residents and city government."
Castilleja family opposes expansion
Resident Peter Costello, whose daughter graduated from Castilleja in 2011, said he is a supporter of the school's mission, but he "strongly" opposes the school's expansion.
"A lightly trafficked and lightly developed school is consistent with a residential neighborhood," Costello wrote. "However, Castilleja's proposal represents a major redevelopment that is more consistent with commercial zoning."
Malcolm Slaney agreed that Castilleja is "great," and he is happy the school is in Palo Alto.
"But I don't understand why it is so important that they stay in this neighborhood, especially if they desire to increase their enrollment," Slaney wrote.
Paul Machado wrote that while the students graduate and move on, the residents in the neighborhood will have to continue to live with the added congestion due to the school's expansion.
Resident Nathan Fahrenthold agreed, writing, "Why are we negatively impacting long-term residents who have lived in the area for decades to benefit out-of-town, temporary folks?"
Resident Amy Christel urged the city not to succumb to the notion that girls can only receive a great education from Castilleja.
"Palo Alto public schools served my daughter splendidly," she wrote.
Draft EIR's purpose
The purpose of the draft EIR is to evaluate the school's plans, identify the problems they would create and determine if the mitigations the school proposed would solve those problems.
Castilleja paid for the draft EIR, which is standard procedure, and the consultants who prepared it are supposed to be objective and not on the side of the school or those who oppose the plan. The report was prepared by environmental planning firm Dudek, of Auburn, Calif.
The 60-day public comment for the draft environmental report began July 17 and ends on Sept. 16. The Planning and Transportation Commission will review the report Wednesday, while the Historic Resources Board will look at it Sept. 12.
The final decision on whether to approve the expansion is up to City Council. No date has been set for council's review of the project.