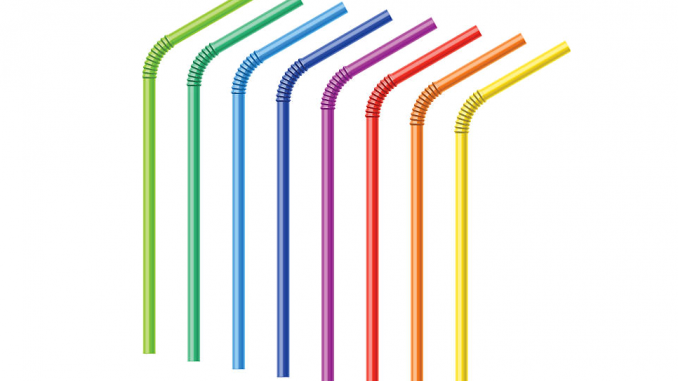 By the Daily Post staff
The plastic drinking straw ban the Palo Alto City Council is poised to pass tonight (June 10) doesn't include a disability exemption that other cities such as San Francisco and Seattle have included in their bans.
Officials at Stanford Hospital and Lucile Packard Children's Hospital have asked the city for an exemption.
"… We believe that the unique operating requirements for hospitals necessitate an exemption to accommodate the delivery of patient care services," said a May 23 letter from Nancy Olson, chief government & community relations officer for Stanford Health Care, and Sherri Sager, who holds the same position at Packard.
But the ordinance before council tonight contains no exemption for a disabled person who might need a straw in order to drink.
Instead, any restaurant caught serving a plastic straw could be charged with an infraction and fined up to $250.
The straw bans passed by Seattle and San Francisco specifically allow businesses to serve flexible plastic straws to patrons with disabilities.
In the letter to the city, officials of the two Palo Alto hospitals point out that they have prioritized environmental sustainability for more than two decades, by doing things such as increasing recycling and using compostable plates and silverware in their cafeterias.
Paper straws didn't work
But they said that paper straws have been tried and don't work for patients who need to bend them or drink more slowly due to their compromised health.
They also point out other concerns about the ordinance, such as its ban on plastic utensils and other foodware. They say the hospitals are required to have ways of feeding patients during power outages that impact dishwashers.
The bendable plastic straw was invented in 1939 by Joseph B. Friedman, who was sitting in a San Francisco soda shop, watching his young daughter struggle to drink a milkshake out of a straight straw, according to a 2011 article in The Atlantic. Friedman used dental floss and a screw to create the accordion-like ridge in the middle of the straw. He patented the idea and set up a plant to make bendable straws. His first customers, however, weren't restaurants but hospitals because they allowed patients with limited movement consume beverages.
Years later, Friedman expanded his sales to restaurants and then the general public.
Other environmental proposals
If approved tonight, Palo Alto's plastic straw ban will go into effect on Jan. 1, 2020.
Council tonight is also voting on proposals to:
• require grocers and farmers markets to only offer compostable or biodegradable produce bags;
• change how buildings are demolished, requiring crews to reuse and recycle materials in the building;
• require residents to use blue-tinted bags for recyclables that are left at the curb, and clear bags for garbage headed for the landfill;
• require that restaurants only provide printed receipts at the request of the customer.
The proposals are in response to the city's Sustainability/Climate Action Plan, or S/CAP, a framework for legislation approved by council in 2016 with an eye toward reducing 95% of the waste headed for the landfill by 2030.
The preamble to the ordinance banning plastic straws says in part, "The practice of freely giving customers disposable foodware and single-use, non-recyclable produce bags encourages customers, retailers, and food vendors to pay little attention to the quantity of disposable packaging products they consume and the associated environmental impact."