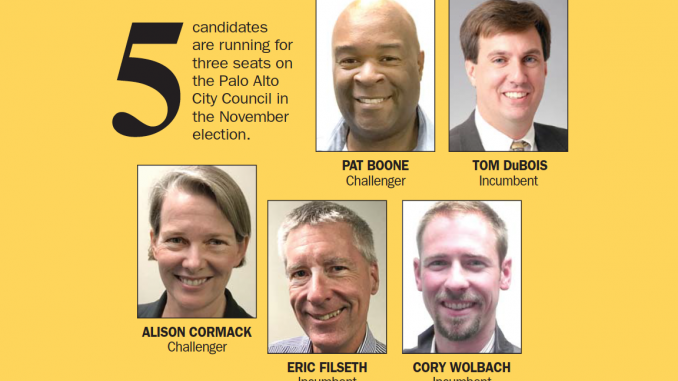 BY ALLISON LEVITSKY
Daily Post Staff Writer
Until a couple of months ago, the hot issue in the Palo Alto City Council race was whether to cut the city's cap on office growth in half. But a referendum headed to the Nov. 6 ballot was stopped in its tracks on July 30, when council voted to reduce growth to 850,000 square feet through 2030.
Abandoning a citizens initiative on an office cap has changed the race, allowing candidates to focus on issues other than the perennial debate over commercial development.
Councilman Cory Wolbach cast the deciding swing vote on the office cap on July 30, voting with the council's slow-growth minority to cap office development citywide at 850,000 square feet through 2030 rather than sending the issue to the Nov. 6 ballot.
With office development swept to the sidelines, candidates are talking about other issues they want to tackle.
For Vice Mayor Eric Filseth, who is running for his second term, that's the city's ballooning pension liability — which ranked in the top 10 per household in the state in 2015, according to pensiontracker.org.
As chair of the Finance Committee last year, Filseth led the city to recalculate its annual pension expenses independently of the California Public Employees' Retirement System.
"CalPERS calculations are wrong, because they assume the wrong investment-return rate; because some of the state's largest and most powerful special interests impel them to underestimate these costs, because ultimately those interests collect much of the difference," Filseth said in an email.
The city's move to calculate its own pension expenses should help stop the bleeding, Filseth said.
His other pet issue is land use. Lowering the office cap served to "reign in" the excesses leading to the city's jobs-housing imbalance, Filseth said, noting that he's also proud of the retail protection ordinance, despite some developers' complaints that it's difficult to sustain as much retail as the city requires.
He described himself as "as fundamentalist as anybody" about forcing developers to meet the city code.
Champion of in-law units
Wolbach, who is running for his second term, has listed his big goals for the city as slowing office development, improving housing options and bolstering public transportation. He took credit for early advocacy for more flexible zoning that has made it easier to build in-law units and denser housing, such as the "car-light" project planned for the VTA lot at 2755 El Camino Real.
Wolbach didn't explain at the July 30 meeting why he voted to lower the office cap, but told the Post that slowing office growth "brings us closer to balance," and that he wanted to see the city "actually do the housing we all committed to."
He's also touted his support of a $15 minimum wage and work on the city's coordinated area plans. Wolbach said he wanted to explore a head tax like the one going on the ballot in Mountain View to fund grade separations, or separating the Caltrain tracks from the streets they intersects so electrified trains can move through the city more frequently.
Slowing the loss of retail
Tom DuBois, who is running for his second term, supported the lower office cap and said he's voted for "nearly every housing thing that's come to council."
DuBois said he's slowed the loss of ground-floor retail and set up parking permit programs in several neighborhoods to keep commuters from parking in residential areas. He said he wants to focus on vehicle flow and get back to a "hierarchy of roads" to keep commuters from leaving arterials to cut through neighborhood streets.
Alison Cormack said she was in favor of "slow growth" but that she would have voted to keep the office cap at 1.7 million square feet rather than cutting it in half.
Cormack is a former tech employee who led the $76 million bond measure to renovate Palo Alto's libraries in 2008. As a candidate, she's homed in on the redevelopment of Cubberley Community Center as a pet issue and regularly attends the meetings on the subject between the city and Palo Alto school district, which co-own the land.
Overseeing big projects
Cormack said she has the skills to get big projects on track and change the way the city communicates with residents in order to better inform people about projects that affect them, giving the example of grade separations.
"Not enough people understand the problem," Cormack said. "Why aren't members of the City Council out every fourth week with a PowerPoint?"
Pat Boone, a former TV reporter who moved to Palo Alto two years ago, said his frustration with the city's traffic propelled him to run for council.
If elected, he said he wanted to explore a better traffic light system and to "look at, maybe, more busing systems" to get people out of their cars.
Boone said he would have voted to lower the office cap to 850,000 square feet and that he was "looking at proposing a business tax" similar to the head tax on the ballot this year in Mountain View.
"We have to slow (office growth) down so we can keep up with the traffic," Boone said. "We've got to make these strong, bold decisions to do that."
Boone said he hadn't closely studied a number of transportation-related issues such as the work of the city's Transportation Management Association, the road diet on North Middlefield Road and grade separations.
The candidates are vying for three open seats on the council, which is downsizing from nine to seven seats next year in accordance with Measure D, a 2014 ballot measure. Council members Karen Holman and Greg Scharff are stepping down after serving the maximum of two consecutive terms.