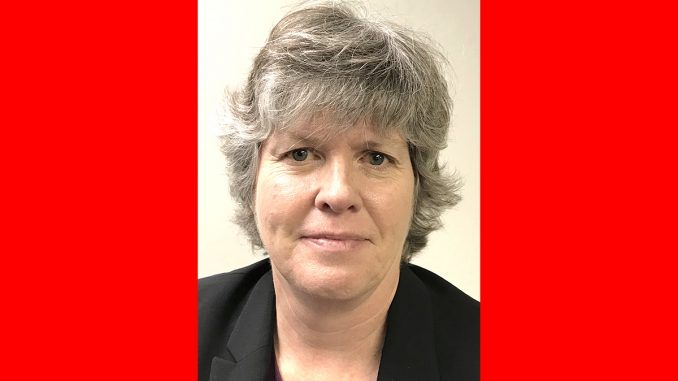 BY ALLISON LEVITSKY
Daily Post Staff Writer
The Palo Alto school district hired a First Amendment lawyer to tell school board candidate Kathy Jordan to stop emailing student journalists at the Campanile, a Palo Alto High School paper.
In a phone interview with the Post yesterday, Jordan said she emailed the teenagers 15 times in October before being told to stop.
Campanile advisor Esther Wojcicki said on Sept. 21 that Jordan had shown "serious lack of judgment" in her interactions with the student paper. "The kids were traumatized by Kathy's inappropriate behavior. Is that the kind of person we want for the school board?" Wojcicki asked in a comment on the Post's website.
The district hired Thomas Burke, a partner specializing in media law at the San Francisco firm Davis Wright Tremaine, to draft an email that former Vice Principal Janice Chen sent to Jordan on Oct. 30, 2017.
"It has come to my attention that our Campanile staff is feeling threatened and harassed by your multiple emails, phone calls and text messages regarding some articles published in the Campanile," the 2017 email from Chen reads. "Our students have shared that the repeated contacts occur sometimes more than (once a day) and the students are feeling stressed and harassed."
Jordan said she never called any of the students but sent five text messages to one Campanile reporter, Shannon Zhao, who approached Jordan at a board meeting, gave her her cellphone number and set up a meeting that Zhao later canceled.
"I would be happy to stop contacting the Campanile staff, once they retract, remove and apologize for publishing libelous assertions and statements," Jordan wrote in response to Chen on Oct. 30, 2017. "Unfortunately I cannot rely on the Campanile's teacher advisor, Ms. Wojcicki to do so, which is why I have been contacting the Campanile staff as a group directly."
Jordan has said that recipients of her emails can see her name on them and can choose to ignore her emails.
Paly sex assault case
In the emails, Jordan had demanded that the students retract and correct articles in which they report that an October 2016 campus sexual assault was found to be consensual.
The 14-year-old victim told the Mercury News and Channel 2 last year that the older boy forced her to have oral sex in a Paly bathroom.
In August, he was sentenced to 60 days in Santa Clara County Juvenile Hall for one felony count of rape and one felony count of forced oral copulation for prior incidents in January 2016 and May 2016.
In February 2017, the district learned that the teen had also been convicted of forcing a Menlo-Atherton High School student to have oral sex in a Palo Alto church bathroom in October 2015, but allowed him to remain at the school.
The law firm Cozen O'Connor, which the district hired last year to review its response to the October 2016 assault, determined that administrators mishandled the investigation.
Keith Ferrell, a district parent and supporter of Jordan, emailed Superintendent Don Austin and the school board on Saturday evening raising his ongoing concerns about the Campanile's reporting of the assault as consensual.
"While there might be some political appeal to criticizing Jordan or trying to portray her as 'attacking' students, I'm not sure that should be a tenet of a student newspaper, especially if it is being organized by a teacher advisor who holds a degree of power over the students," Ferrell wrote.
Superintendent weighs in
Austin responded to Ferrell on Sunday afternoon, saying that he has "serious concerns" about the way the Campanile portrayed the sexual assault and that he or Deputy Superintendent Karen Hendricks would contact Ferrell this week.
When reached last night, Austin said he was concerned "about a story not being fully reported with both sides, and additionally the source of the information."
Austin said he's "very comfortable" with the role school administrators have in Palo Alto when it comes to the school newspaper.
"I'm equally confident that from what I've seen so far, the newspaper and their own editors and advisor are very aware of the rules and operate within them," Austin said.
Jordan's view
Jordan, meanwhile, claims that the Campanile reporting amounts to a libelous, coordinated effort between Wojcicki, former Principal Kim Diorio and other school and district administrators to suppress unflattering information about school administrators.
She cites emails between Wojcicki and Diorio from May 2017, the month that Channel 2 broke the story about the October 2016 sex assault, that Jordan obtained through a public records request.
Jordan has requested hundreds of thousands of pages of public records from the district since May 2017, leading some district leaders to blame her as a reason for the district's slow response to public records requests.
"I heard how you were attacked at the board meeting. So sorry you had to endure that," Wojcicki wrote to Diorio on May 10, 2017, the day after Jordan criticized Diorio at a school board meeting over her three-year withholding of 25 sexual misconduct allegations against former Paly Principal Phil Winston. "I want you to know that Campanile will write an editorial supporting you and everything you have done. Second, I would like to talk to that parent by myself. Can you send me her contact info. She is crazy … clearly."
Jordan has pointed to the Campanile's coverage of Winston's departure from the district as further evidence that the school paper covers up bad behavior by district administrators.
Does Jordan represent the victim?
Jordan said she last communicated with the October 2016 victim's mother a few months ago. The girl's family hasn't asked Jordan to be her advocate, but Jordan said the mother "wanted everyone to be involved, advocating for her daughter."
"She was unhappy with her daughter's treatment by the Paly administration," Jordan said. "I let the mother know about the (Campanile) coverage, and she thanked me for the information."
The Campanile is now working on a followup story "clarifying the events that occurred last year, including your interactions with our staff," the school paper's five editors-in-chief wrote in an email to Jordan on Sept. 27.
Jordan has pointed to the California Student Free Expression Law of 1977, which affirms the right of high school newspapers to publish what they choose as long as it's not obscene, libelous or slanderous. When reached by phone yesterday, Jordan repeatedly declined to say whether she thinks the school board should prescreen student articles before they're published.
"The school board is ultimately responsible for the district complying with the law, and there are laws that apply to student publications," Jordan said.