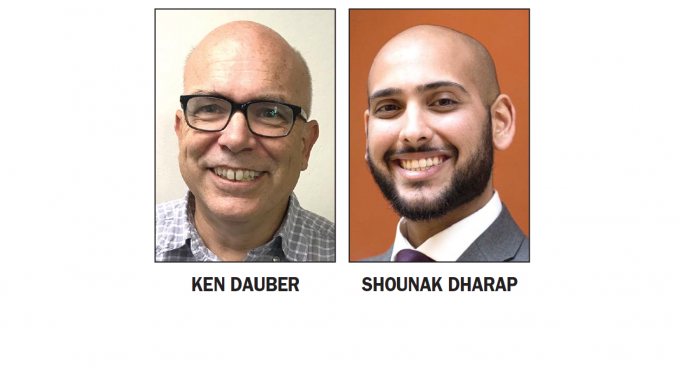 BY ALLISON LEVITSKY
Daily Post Staff Writer
Even with more than 52,000 ballots left uncounted across Santa Clara County, attorney and Gunn High School graduate Shounak Dharap appears to have won a tight race for the second open seat on the Palo Alto school board.
Incumbent Ken Dauber was the top vote-getter and his re-election wasn't in doubt since election night. But there was a seesaw battle for the second seat up for grabs.
"I came into this race against great odds as a nontraditional candidate: a young lawyer, relatively unknown, with no children, a full-time job and a hard-to-pronounce name," Dharap said in a statement Friday (Nov. 16) night. "What I had were a perspective as a PAUSD graduate, professional experience with governance and compliance, a passion for our students and a drive to do whatever I could to build them a better future."
As of Sunday, Dharap was 1,166 votes ahead of the second-place candidate, special education advocate Stacey Ashlund with 23.4% of the overall vote. Ashlund had 21.1%.
"I'm very proud to have run an honest, high-integrity, issue-based campaign," Ashlund said in a statement Friday (Nov. 16). "I am proud to have come so close to winning a seat. I am proud that we remained steady as the no-drama campaign."
Dharap, a 28-year-old litigator at the Arns Law Firm, has aligned himself with some of Dauber's positions, including against weighted grade-point averages.
"I want to thank Ken Dauber for the deep knowledge and clear sense of direction he brought to this race," Dharap said. "I look forward to joining him on the board to address critical issues of equity, compliance, transparency, student wellness and innovation over the net four years. We won't always agree on issues, but we will always agree that we're doing this work for you: our students, families and community."
Palo Alto School Board
Two seats
KEN DAUBER*
13,947
27.27%
SHOUNAK DHARAP
11,968
23.40%
STACEY ASHLUND
10,802
21.12%
KATHY JORDAN
10,402
20.34%
ALEX SCHARF
3,683
7.20%
CHRISTOPHER BOYD
351
0.69%