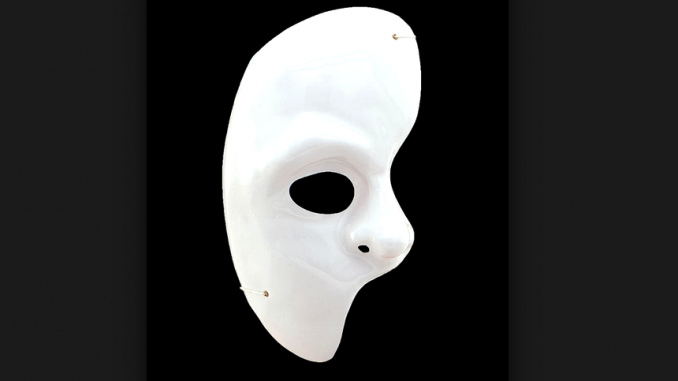 By the Daily Post staff
Police in Palo Alto are searching for a man who donned a Phantom of the Opera mask during a burglary spree of four businesses downtown, on California Avenue and at the Town and Country Village Shopping Center.
The first break-in was reported around 2:13 a.m. Wednesday (Nov. 14), when a window at Vin Vino Wine at 437 California Ave. was smashed and the cash register stolen, along with an iPad and $400 cash. Around 4:30 a.m., a passer-by called police to report a window had been smashed at the Simply Be Salon and Spa at 530 University Ave. Police found that the cash register was stolen.
At 5:30 a.m., an employee arriving to work at Subway at 421 California Ave. reported that the restaurant had been burglarized. At 8:23 a.m., an employee called from Sushi House at Town and Country to report another burglary.
Police believe all four burglaries took place between 2 a.m. and 3 a.m. Wednesday.
Surveillance footage shows the burglar was wearing a white Phantom of the Opera mask during the burglaries, but a camera also captured him without the mask outside
of Subway.
Police described the man as black, with a medium build, average height and some facial hair.
Anyone with information about the burglaries has been asked to call police at (650) 329-2413. Anonymous tips can be emailed to [email protected] or sent via text message or voicemail to (650) 383-8984.