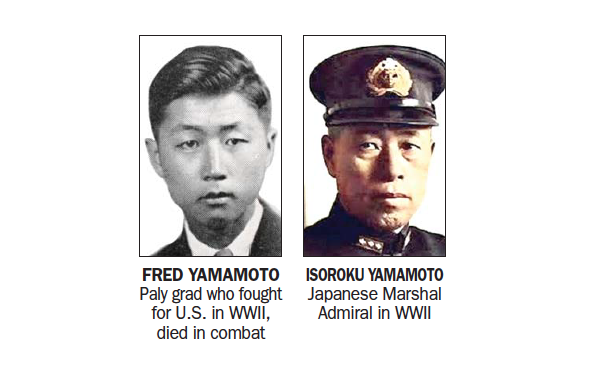 BY ALLISON LEVITSKY
Daily Post Staff Writer
In the age of national election hacking fears, the divisive decision to rename two Palo Alto middle schools inspired hundreds of questionable emails opposing the since-abandoned name Fred Yamamoto Middle School.
More than 300 emails from the domain termanjordanrenaming.net were delivered to the school board members between 2 a.m. and 2:46 a.m. on March 27, the day that dozens of parents lined up at the school board meeting to urge the trustees not to name Jordan or Terman middle school after Yamamoto.
Yamamoto was a Palo Alto High School graduate who was held in Japanese-American internment camps, then died in combat fighting for the U.S. in World War II. A vocal contingent of largely Chinese-American parents opposed the name because they said they associated it with Isoroku Yamamoto, the unrelated Japanese admiral who masterminded Pearl Harbor.
In an email to Deputy Superintendent Karen Hendricks that morning, board member Melissa Baten Caswell noted that all the emails came from almost identical email addresses.
Many of the emails had different names attached, but certain names appeared multiple times, Baten Caswell said. She was told that the emails came from a Google Drive program — a cloud storage and file backup service.
"We had a similar flurry a few days ago that all came from a similar email address (but different names) as well," Baten Caswell said.
Pierre Schwob, a Paly parent, said the email [email protected] was used to "spoof" his actual email address in March, delivering emails to district officials and his family members that were made to look like they came from him.
Schwob examined the header of the email, a normally hidden part of email messages which identifies the message's routing information, to determine that his email address had been used to impersonate him.
"The whole thing is bizarre," Schwob told the Post. "I'm lost on the cost-benefit to go to all these efforts for a name change. I just don't get it."
Schwob said he didn't know why he had been targeted. Other than giving a few "pretty big gifts" to Palo Alto Partners in Education a few years ago, he's not involved in school district politics.
Impersonation reported to FBI
Schwob reported the impersonation to the FBI's cyber crime division and told district officials what had happened on March 27, the same day that the emails went out. He also changed all of his passwords, he said.
The fake email included Schwob's name at the bottom and was sent to the school board, head of secondary education Sharon Ofek and former Mayor Le Levy, who chaired the citizens committee that recommended the name Yamamoto.
"I heard that 'Yamamoto' is a top candidate for the renaming of our middle schools. I hope you take a few minutes to Google the name and look at the result," the phony email reads. "I understand there are many 'Yamamoto' (sic) in this world, but the most famous happens to be the notorious WWII criminal who was responsible for the bombing of Pearl Harbor that massacred thousands of American soldiers."
Nearly identical emails to the phony one were sent by HongHai Shen, Huiling Gong, Jennifer Gu, Xuemei Bao, Jennifer Liu and Gang Han on March 16 and 17.
"I am sure you don't want to associate our school to such a name and cause another (media) frenzy," the doctored email from Schwob went on. "Why don't we just choose a name that is associated with school location that has no political meaning, and settle down this issue once for all."
On March 28, district Chief Technology Officer Derek Moore responded to Schwob and said that the domain termanjordanrenaming.net had been used to send hundreds of form-based emails over the prior week to different accounts within the district.
Activists passed out flyers to students
Other anti-Yamamoto activists passed out flyers to students and adults at Jordan and Terman middle schools on March 23, leading Hendricks and both schools' principals to send a letter to parents reminding them that it's illegal for adults to pass out flyers to students on campus without district approval.
Ultimately, the board heeded those parents' concerns on March 27 and renamed Terman Middle School after former Palo Alto Councilwoman, bike advocate and Holocaust survivor Ellen Fletcher and Jordan Middle School after black Silicon Valley leader Frank Greene Jr.
The revelation about fake emails came in the 1,202-page release of emails between Hendricks, the board and department heads from March. The Post requested the emails on April 3, but the district didn't release them until Nov. 14, contrary to a state law requiring public agencies to release public records within 10 days.
If the agency needs more time to process the records for release, it can request a 14-day extension, but the district made no such request.