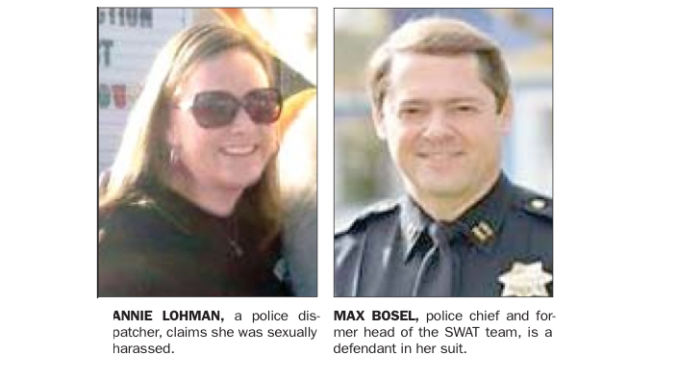 BY ALLISON LEVITSKY
Daily Post Staff Writer
A former Mountain View police dispatcher who sued Chief Max Bosel for sexual harassment in 2016 will likely lose her lawsuit, according to a tentative ruling from Santa Clara County Superior Court Judge Peter Kirwan.
In the 12-page ruling posted to the court's website, Kirwan sides with Bosel and the city of Mountain View, who former dispatcher Annie Lohman sued in March 2016.
Attorneys for both sides made oral arguments in a hearing in San Jose yesterday morning, but Kirwan has not said when he will issue a final ruling.
His tentative ruling sides with Bosel and the city on all six causes of action: retaliation, sexual harassment, gender discrimination, disability discrimination, violation of the California Fair Pay Act and failure to prevent harassment, discrimination and retaliation.
"I have always been confident that when the facts came out, my name would be cleared. The court's tentative ruling is a welcome sign that this exceedingly long and stressful situation appears to be coming to an end," Bosel said in a statement. "I appreciate the support of my family, friends, colleagues in the police department and the city, and look forward to the final ruling coming out soon."
Lohman's allegations
Lohman, 38, alleged that when she and Bosel were on the SWAT team, her co-workers subjected her to sexually explicit banter, lewd jokes, nudity and simulated sex acts between 2006 and 2010.
Lohman said that Bosel, who was SWAT team leader at the time, not only did nothing to stop the behavior, but actively encouraged it.
Bosel also allegedly flirted with Lohman, commented on her appearance, rubbed her feet at a SWAT training between 2005 and 2007 and rubbed her shoulders between two and four times between 2005 and 2014.
Lohman says she rebuffed Bosel's advances, leading him to retaliate against her with negative performance reviews. In late 2012 or early 2013 Lohman told Bosel that she had begun dating Sgt. Scott Thomas, whom she married in 2015.
At the meeting where Lohman told Bosel she was dating Thomas, Bosel allegedly asked her to self-demote from her lead dispatcher position, but she refused. For more than two years after that, Lohman said she faced repeated, negative performance reviews. She was demoted on July 22, 2015 and left the department in May. But Kirwan ruled that Lohman didn't show sufficient evidence to prove that her negative reviews were closely related to any harassment by Bosel.
Time ran out
The judge also found that because Lohman didn't report the sexual harassment until October 2015, at least two years after the harassment stopped, the city isn't liable because of the one-year statute of limitations on workplace sexual harassment.
Lohman also didn't adequately prove that she had been retaliated against, failing to show that a complaint she made in April 2015 triggered her demotion three months later, Kirwan ruled.
The judge also sided with Bosel and the city against Lohman's claims that her demotion constituted gender or disability discrimination, reasoning that the city provided performance-based reasons for demoting Lohman.
Lastly, Lohman lost her claim of unequal pay, claiming the city paid a former lead police dispatcher, Andre Harrison, more than Lohman because he is a man.
Kirwan ruled against her, reasoning that Harrison's higher salary was because he had more experience as a dispatcher than Lohman did. Lohman and other lead dispatchers caught up with Harrison's salary in 2013.
Lohman's attorney, Hilary Weddell of the San Jose firm McManis Faulkner, did not return a request for comment.