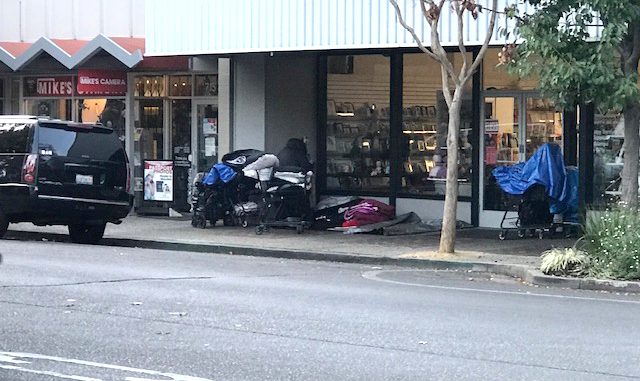 BY EMILY MIBACH
Daily Post Staff Writer
Kerry Hoctor, the owner of Village Stationers on Santa Cruz Avenue in Menlo Park, arrives at work every morning to see a homeless woman packing up her shopping carts and evacuating the shelter of his store's overhang.
Hoctor said that earlier this week one of his employees saw, and smelled, the woman wring out a towel that was not water, and he had to throw away his welcome mats because they are used as pee pads by the local homeless.
"It's not a problem that she's there during the nights. I'm sympathetic to the homeless folks around here. But I am concerned about the reputation that downtown Menlo Park is getting," Hoctor said.
While Hoctor has no issue with the woman for sleeping in front of his store every night, he is concerned about her lack of a publicly accessible bathroom from 7 p.m. to 7 a.m., while the majority of the shops along Santa Cruz Avenue are closed.
Hoctor is not the only downtown merchant or customer who is having problems with the waste that the homeless folks leave behind. Menlo Park resident Monica Young wrote to the city council on Tuesday about the human waste downtown.
"I have been increasingly irritated by the disgusting, filthy, conditions of our downtown area. There is human waste all around Walgreens and Starbucks in particular. I have seen used needles on the ground in that area as well as in the Safeway parking lot. If you are going to allow homeless people to eat, sleep and poop on our streets, then you should be held accountable for the mess and disgust they leave in their wake," Young wrote.
Small homeless population
Downtown Menlo Park has a relatively small homeless population when compared to downtown San Francisco, but the impact of their waste is harshly felt.
Last September, the city council voted unanimously to remove a so-called "pop-up park" at the corner of Curtis Street and Santa Cruz Avenue, which had been referred to as a "cesspool" by at least one resident. The park, which had fake grass and benches, attracted both homeless and dog droppings.
The park was removed largely because of the numerous complaints from residents about the use of the park by the homeless.
Hoctor points out that homeless folks taking shelter along Santa Cruz Avenue is not new. When Hoctor opened up a shop in 2008 along the street, a woman pretty much lived on the bench in front of the store for about two years before she went to the hospital and later died.
But what Hoctor wants to know is why it seems like the city is not doing anything regarding the human waste.
Porta-Potties
Vice Mayor Ray Mueller said that the council set aside money in its budget to put some public toilets in the downtown, but it is up to the city's Chamber of Commerce to decide where to put them.
President of the chamber, Fran Dehn said she is working on a survey for merchants in the downtown to weigh in on where a Porta-Potty or public toilet of some sort ought to be installed.
Dehn also said that the survey would include ways for merchants to propose ideas on other ways to keep downtown cleaner. The proposals would then be taken to city council if there is enough support for them by the merchants.
The city has increased the amount of times it power-washes Santa Cruz Avenue, which has been a great help to maintaining the area's cleanliness. Additionally, Dehn said that the city's Public Works Department has been "wonderful" at responding to requests to spot-clean certain areas.
"We are trying to get there and really discern what it is that would be agreed upon or accepted by everyone," Dehn said. "Whatever we propose has to be supported by folks downtown."