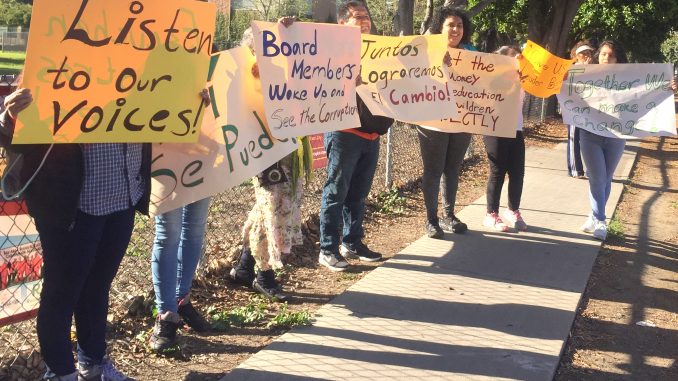 BY EMILY MIBACH
Daily Post Staff Writer
If Ravenswood Superintendent Gloria Hernandez-Goff is fired, it's possible the district may have to pay her up to $289,221, according to her contract.
The school board put Hernandez-Goff being on paid suspension on Wednesday (Feb. 27), but gave no official reason for the move. If the board intends to fire her, one consideration for the cash-strapped district is the amount of severance she would be owed under her contract.
According to her contract, she could receive a cash settlement equal to the equivalent of a year and a half salary, or $289,221. She will also be eligible to receive health benefits for up to a year and a half.
No severance if it's a firing 'for cause'

But the district could fire Hernandez-Goff "for cause" and not have to pay her severance if it finds that she did any of the following:
• Violated Education Code Section 44932, which states that employees can be dismissed for unprofessional conduct, conviction of a felony, dishonesty, being unfit to instruct or associate with children or refusal to obey state or board rules, among other things;
• Failed to perform her "duties or responsibilities" as set forth in board policies and her contract;
• Broke state law.
For cause of firing to be determined, the board members must provide to her in writing their reasons for firing her and give her the opportunity to appear before the board behind closed doors to respond.
The board hasn't said why it suspended her, but critics fault her for such things as putting her son on the district's payroll, transferring a popular principal to a central office job, failing to communicate with teachers about the opening of a new middle school, and mismanaging the district's finances.
Firing more costly if it's 'without cause'
But if the board fires Hernandez-Goff "without cause," she is entitled to up to her full year's salary of $192,814, depending on how far into her contract she is fired.
Severance agreements often include additional payments in exchange for the dismissed employee's agreement to not sue over the termination. Some districts have included non-disparagement clauses in termination agreements, requiring the fired employee to keep quiet about the reasons for their dismissal and their opinions of the board.
Severance agreements, however, are a public record in California. If the board terminates Hernandez-Goff "without cause," the public will be able to see the severance agreement the board reached with her.
District's financial woes
The severance payment may come as a further financial pinch for the district. In December, district leaders announced they are planning to cut $3.7 million from the budget by next year.
Last year, the district cut $5 million from its budget as it lost state funding, which is based on enrollment. Families in East Palo Alto and east Menlo Park, disappointed in the school district's low academic performance, have been moving their children to charter schools and also leaving the area because of the high cost of living.
Related stories
• March 1, Board gets cheers for suspending superintendent
• Feb. 28, Superintendent put on paid leave
• April 29, New operator to take over Ravenswood preschools
• April 27, Board votes to keep controversial superintendent
• April 25, Ravenswood's claim about helping the homeless is disputed
• April 22, Pressure grows to remove Ravenswood superintendent
• Feb. 17, Mayor claims Ravenswood has a 'culture of corruption'
• Feb. 9, Ravenswood to eliminate 83 jobs
• Feb. 6, Layoffs, budget cuts proposed