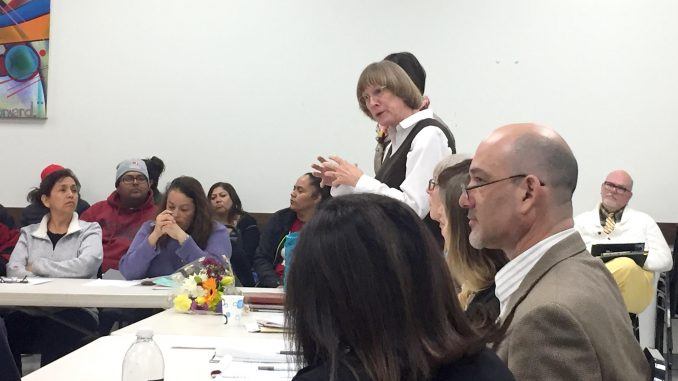 BY EMILY MIBACH
Daily Post Staff Writer
The San Mateo County Office of Education yesterday (April 27) announced it has found a new child care provider for East Palo Alto and east Menlo Park families to replace the Ravenswood City School District.
The Institute for Human and Social Development (or IHSD) has entered into an agreement to run the preschool at 951 O'Connor St. in East Palo Alto.
Families have been worried about who will take over preschool program after the school board voted on Feb. 8 to end the district-funded program and cut 83 jobs to prevent the financial demise of the district.
The preschool has 140 students and costs the district $500,000 a year to operate. While the county has found a new preschool provider, there is one "hiccup," as San Mateo County Superintendent Anne Campbell characterized it at Ravenswood's board meeting on Thursday.
The state will not authorize the handing over of the preschool from the district to the county and IHSD until there is an agreement in place between the three entities allowing IHSD to use the district's facilities.
"The longer we wait, the longer it'll take," Campbell said, requesting that the district and her office arrange a meeting that would take place the week of April 30-May 4. "I don't think anyone here or any parents want to extend that period where there is no child care at the (preschool)."
Campbell was referring to the expected six-week gap between the district closing the preschool on June 30 and the county's anticipated reopening date of Aug. 15.
In order to help parents during the six-week gap, the county has said it will team up with parents to find interim preschool or child care for their kids. At a Feb. 28 meeting, Campbell and her team told parents that they will not need to re-register their child for preschool in the county. And once the preschool is reopened, families will be able to transfer back to the center.
IHSD, the preschool operator picked by the county, already has three locations in East Palo Alto and will run a full-day, full-time program where children will be able to attend preschool. IHSD has been operating preschools in the county for 35 years, according to a statement from Campbell's office.
Families who qualify for free or reduced preschool tuition, as well as families who are able to pay for the full tuition, will be able to enroll, according to the statement.