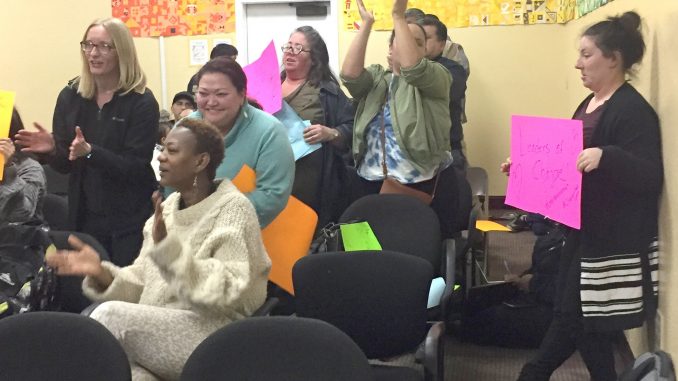 BY EMILY MIBACH
Daily Post Staff Writer
Cheers filled the Ravenswood City School District's board room last night when the board entered the room after placing its controversial superintendent on paid suspension.
This is a 180-degree turnabout from 10 months ago when those in attendance at the April 26 board meeting hissed and groaned after the board renewed Superintendent Gloria Hernandez-Goff's contract. Her base pay is $192,814 a year.
Last night, parents, teachers and residents of East Palo Alto and east Menlo Park held up signs thanking the board for their vote to suspend Hernandez-Goff.
Board members didn't say why they put Hernandez-Goff on leave, but residents quickly filled in the blanks.
She hired her son
Councilman Ruben Abrica sharply criticized Hernandez-Goff for hiring her son, John Denos, and retaining a public relations firm for nearly $100,000.
"This superintendent had the opportunity in five years to do a lot of good. But instead of focusing on education, she focused on her own personal power grab and ran the district like a private family business," Abrica said.
Previously, Hernandez-Goff was criticized for reassigning popular Belle Haven Elementary School principal Todd Gaviglio to a desk job in the central office. In April, about 200 students were kept home from school by their parents to protest the removal of Gaviglio.
She was also criticized for deciding to relinquish the district's control of its preschool, the Child Development Center, which is now being run by a county contractor.
No-confidence vote
Two years ago, 143 of the district's 184 teachers signed a letter of no confidence and asked her to resign.
While most in the crowd last night seemed to support the board's choice, four people spoke last night in support of Hernandez-Goff.
"It's a slap in the face when you say she's not doing (anything) for the students or for you," said Marco Duarte. He said Hernandez-Goff brought activities such as maker spaces and music to the district.
Ravenswood employee Antonio Cuellar asked that the board honor Hernandez-Goff's contract, and said he thought she's been doing a "great job."
Finding a replacement
The board had some problems yesterday in finding a replacement for Hernandez-Goff during the suspension.
Originally, the board tapped Assistant Superintendent Lorena Morales-Ellis for the job. But yesterday morning, Morales-Ellis declined the job, saying she and other top-ranking district officials, who are known as the cabinet, are overworked.
At last night's meeting, President Tamara Sobomehin said the board had voted 3-2 to appoint Student Services Director Gina Sudaria as the acting superintendent. The crowd applauded the board.
Sudaria has been with the district since 1998, starting out as a teacher and working her way up the chain of command. Sobomehin said yesterday that the "parameters" of Sudaria's position as acting superintendent will come to the board at a later date.