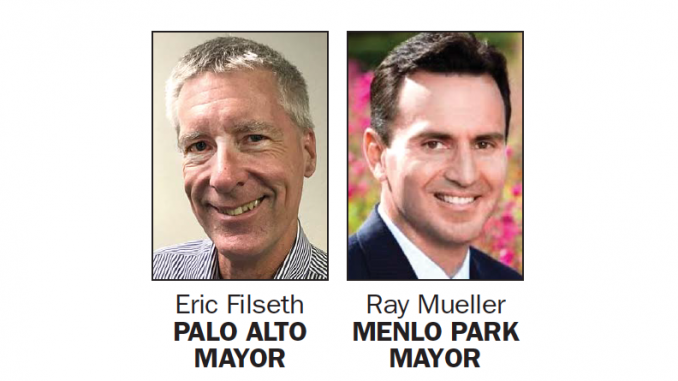 BY ALLISON LEVITSKY
Daily Post Staff Writer
The mayors of Palo Alto and Menlo Park — two city governments that haven't always been in lockstep — met for the first time over lunch to hash out a new plan to bring the two city councils together for an annual joint meeting.
Palo Alto Mayor Eric Filseth and Menlo Park Mayor Ray Mueller met Feb. 21 at Bistro Vida in downtown Menlo Park, where they chatted about holding a two-city council meeting later this year.
"I am really excited about it," Mueller told the Post. "There are a lot of areas of mutual interest that we can work on together and problem-solve together."
Over Mueller's tuna tartare appetizer and Filseth's grilled chicken entree, the two mayors spoke about ways to work together to solve the regional traffic problem, state initiatives to force dense housing on cities such as Senate Bill 50 and the Committee to House the Bay Area Compact, clean energy programs, railroad infrastructure issues and Stanford's 3.5-million-square-foot expansion plan.
Filseth noted that he has to "be careful" when speaking about grade separations, the construction of bridges, blocking off of streets or digging of trenches to separate the Caltrain tracks from city streets, because he lives near the Palo Alto Avenue crossing and isn't allowed to participate in those discussions.
"Ray's a really thoughtful guy. He's got a very deep grasp of his community, and Menlo Park's lucky to have him," Filseth told the Post.
The two also spoke highly of Team Sheeper, the Menlo Park program that has taken over the management of the Rinconada Pool in Palo Alto, Filseth said.
No date has been set for the first joint council meeting, but Palo Alto will be hosting it, the two mayors said.
Next year, Menlo Park will host the meeting.
'Pain points' between the cities
Despite sharing a border, the two cities haven't always worked closely together, considering that they're in separate counties, Mueller said.
And there are "pain points" between the two cities, including how they manage traffic flow, he added.
"Having a discussion about that will lead to probably, I would think, stronger initiatives within our cities, because we can't pretend like we don't touch each other," Mueller said. "We already saw that last year — we already have a bike route that goes between our two cities."
The bike route, which launched in September, connects Mountain View to Redwood City. And the two cities' council committees focusing on Stanford's proposed expansion will also be communicating.
One issue of shared concern is Stanford buying or building homes without having to pay property tax, which jeopardizes public school funding in both cities, Filseth said.
Menlo Park councilwomen Cecilia Taylor and Betsy Nash have already been studying the expansion as their council's Stanford General Use Permit committee.
This week, Palo Alto got up to speed and formed a similar committee that will be run by council members Alison Cormack and Tom DuBois.
Mueller said he hopes to expand the regional cooperation beyond the two cities to Atherton and Mountain View.
"If collectively we were all working together, what could that do in terms of bringing attention to some of our very specific issues?" Mueller asked.
With that, the two mayors split the bill: Mueller paid with his personal credit card and Filseth reimbursed him for the chicken in cash.