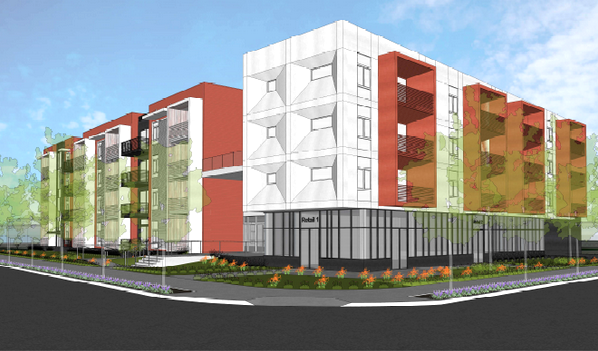 BY ALLISON LEVITSKY
Daily Post Staff Writer
A 64-unit condominium development proposed at 788 San Antonio Road would include 10 below-market-rate homes, but still attracted criticism last night about traffic, parking and the loss of retail space from Palo Alto City Council's slow-growth minority.
The four-story project wasn't up for a vote last night. The council was holding a study session to discuss making several changes to the zoning code that the developer is requesting.
The one- and two-bedroom condos would replace Studio Kicks Palo Alto, a martial arts school at 796 San Antonio Road. Several council members said they were sorry to see the studio be forced to move.
Property owner Yurong Han, the developer behind the 567 Maybell Ave. housing development, initially proposed to build 48 units.
Housing incentive programs
Now, Han is asking council to extend its new housing incentive programs to lots like his that are zoned "commercial service" along San Antonio Road between Middlefield Road and E. Charleston Avenue.
Those changes would include eliminating limits on housing density, allowing rooftop gardens to count toward open space requirements and not requiring parking for retail spaces that are smaller than 1,500 square feet.
Han is also asking the council to exempt certain area in underground garages from counting toward a project's density and to relax its requirement for developers to include ground-floor retail in their projects.
Councilman Tom DuBois said he wanted to protect retail space as well as light industrial businesses.
Planning Director Jonathan Lait noted that the light industrial businesses in that area are actually in Mountain View. Palo Alto's light industrial businesses are farther east, closer to Fabian Way, Lait said.
Meanwhile, pro-growth council members expressed approval for the project. Vice Mayor Adrian Fine said he hoped it could move along more quickly.
Councilwoman Liz Kniss said she was glad to see a rooftop on the building, and said that the council needed to approve more projects in order to meet its 300-unit annual goal.
Demand for housing
"Housing is front and center," Kniss said. "This is a project that fits the site."
Palo Alto VA psychologist Kelsey Banes urged the council to bless the project, noting the 31% increase in Santa Clara County's homeless population since 2017.
Councilwoman Lydia Kou responded that it was "disingenuous" to suggest that the proposed condos would help the poor.
"This housing project is not going to house the homeless," Kou said, stating that the 10 subsidized condos wouldn't even "make a dent" on the region's homelessness problem.
Mayor Eric Filseth, who otherwise said he liked seeing housing being proposed, also expressed skepticism about who the units would really be housing.
"If I have to choose between evicting the kids versus an extra 10 units for Google software engineers, it's not obvious to me taking the extra 10 housing units is worth that," Filseth said, referring to Studio Kicks.
Kou went on to rail against the poor bus service near San Antonio Road, asking whether kids would be crossing San Antonio to get to school.
Kou responded to a representative for Han who said that the project intentionally only includes one- and two-bedroom apartments in order to discourage families from living there.
"Well, guess what? It's a family community," Kou said. "Make it something where people can actually live with dignity."
Housing shortage for even high-income earners
After the study session, Banes approached the microphone again to respond to Kou during oral communications, when members of the public can comment on subjects that aren't on that meeting's agenda.
Banes explained to Kou that because the region has so much demand for housing, even high-income earners are buying and renting modest homes that would normally be affordable to the poor and middle-class.
That raises prices for everybody and pushes the poor out of the area, Banes explained to Kou, describing the phenomenon as "a really mean game of musical chairs."
Only a fraction of the local news stories covered by the Daily Post appear on this website. To get all the local news, including many stories you can't find online, pick up the Post every morning at 1,000 Mid-Peninsula locations.