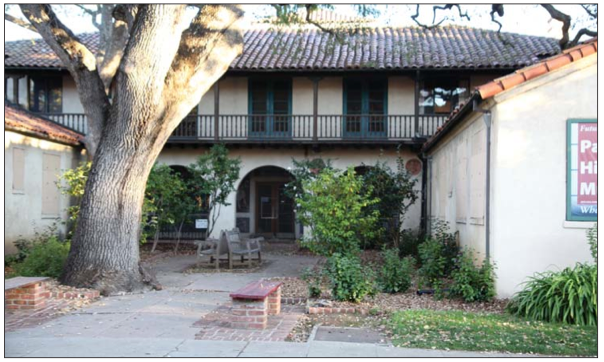 BY ALLISON LEVITSKY
Daily Post Staff Writer
The group behind the proposed Palo Alto History Museum will be allowed to lease the dilapidated Roth Building from the city for $1 for another year, even though in the past 10 years, it's raised a fraction of the funds it will need to meet its self-imposed deadline to open in 2019.
"I actually feel this is really generous, to be honest," Mayor Greg Scharff said at City Council's meeting last night, where a unanimous vote clinched a new carrot-and-stick deal.
The city has offered to match $1.75 million if the museum can raise the same amount by Nov. 30, 2018.
If the museum leadership, which has only raised $1.8 million over the last 10 years, fails to meet the deadline, the city will issue a request for proposals for other tenants, either nonprofit or for-profit, to rehabilitate and lease the historic building at 300 Homer Ave.
The Spanish Eclectic-style building originally housed the Palo Alto Medical Clinic. In April 2000, the city bought the building for almost $2 million for potential development as a "public facility or alternative use if a public facility is not feasible" as part of the South of Forest Avenue Coordinated Area Plan.
The museum wants to renovate the 19,059-square-foot building and add 582 square feet.
"This has been a 20-year project," Vice Mayor Liz Kniss said. "There's no question that at this time, we need to go ahead with an alternate plan as well as the current plan."
The city has already given the museum $3.9 million, bringing its total amount of funds to $5.7 million. The museum plans to raise $9.2 million for the building rehabilitation and $10.8 million for museum build-out and operations.
"We have an aggressive development campaign that is addressing one- on-one meetings with people of financial capacity. We're also reaching out to the community," said Rich Green, president of the museum's board of directors.
Green said the museum would raise the funds in time for the city's 125th anniversary in 2019. The museum has already sold its transferable development rights, which account for almost $2.9 million.
Former Mayor Larry Klein, a longtime critic of the museum's slug- gish fundraising efforts, suggested the city give the museum a three-year ex- tension subject to various fundraising benchmarks.
Klein pointed out that, other than massive city contributions, the museum has only raised $180,000 per year.
"We've been hearing that the money was right around the corner for a long time," Klein said. "My experience is that there are very few people who are good at fundraising."