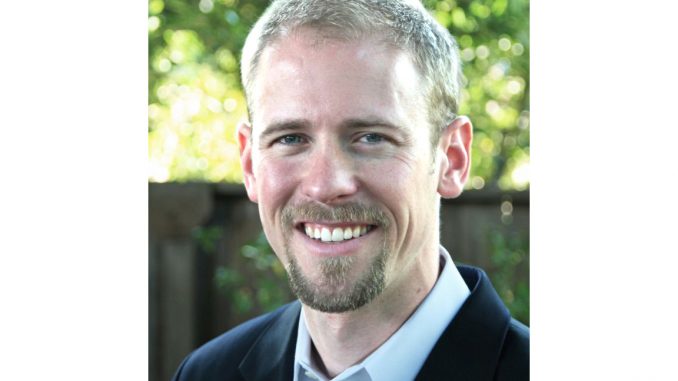 BY ALLISON LEVITSKY
Daily Post Staff Writer
A citizens initiative to halve office development in Palo Alto was made law tonight (June 30) — a surprise win for the slow-growth minority on City Council thanks to a swing vote from Councilman Cory Wolbach.
Council voted 5-4 to cap office development citywide at 850,000 square feet through 2030 rather than sending the initiative to voters on the November ballot. Mayor Liz Kniss and pro-growth council members Greg Tanaka, Greg Scharff and Adrian Fine opposed the move to make the cap law. Voting in favor were Lydia Kou, Karen Holman, Eric Filseth, Tom DuBois and Wolbach.
Normally, Wolbach votes with the pro-growth majority but tonight swung over to the other side. He's running for re-election in November.
Supporters of the initiative, including the Palo Altans for Sensible Zoning who gathered signatures, said limiting office growth would help to correct the city's traffic gridlock and three-to-one jobs-housing imbalance.
"We are over-abundant with office and research and development. Over-abundant," Councilwoman Karen Holman said, citing a penthouse for rent for $30,000 a month as a symptom of the imbalance. "Until we get our house in order, why in the world would we consider allowing more office?"
Wolbach didn't explain on the dais why he voted to lower the cap, but answered a text from the Post after the vote.
"It's the right policy. It brings us closer to balance. Now we need to actually do the housing we all committed to," Wolbach wrote in a text message to the Post.
Scharff disputed the connection between office development and housing, a claim that was upheld by city consultant Ben Sigman of Economic and Planning Systems.
Opponents of the development cap also argued that it should have been sent to the ballot to respect the democratic process and the years of work updating the Comprehensive Plan, which set the cap at 1.7 million square feet.
Fine held up his copy of the Comprehensive Plan 2030 and, after the vote, said he would recycle it because it was no longer valid.
Kniss urged council to put the initiative on the November ballot, which would allow Palo Alto's 38,000 registered voters the opportunity to make the decision, rather than the 3,100 or so who signed the petition.
She cited the more than 10 years the council, Planning and Transportation Commission and a citizens committee spent writing the Comprehensive Plan in explaining why she wanted to see the lower cap go to the ballot.
Audience members shouted Kniss down when she doubted one of the most universally accepted truths in Palo Alto: that traffic is bad and getting worse.
"I think some of our reports of traffic are really exaggerated," Kniss said. "I think if you're willing to try alternate routes, not go your normal route, I think you'll find the traffic is not as overwhelming as you might think."
City Manager Jim Keene made the case against lowering the cap, urging council to keep its options open if a big tech company, giving Tesla as an example, wants to expand by 450,000 square feet and ends up expanding in a neighboring city.
The city and school district would then lose out on that tax revenue, Keene said.
"We've lost that flexibility," Keene said.
"Why don't we raise it to 3 million?" Holman fired back facetiously. "I'm just saying, you know, there's got to be a limit."
Council urged to stop Hotel President evictions
Before the vote, dozens of residents and supporters of the tenants of the Hotel President spoke in public comment to urge council to intervene in their forthcoming evictions.
The 75-unit apartment building was sold last month to a Chicago-based hotel developer, Adventurous Journeys Capital Partners, which plans to evict the residents in November to convert the building back into a hotel.
Several tenants called on council to pass a moratorium to delay the residents' eviction until after the holidays or to enforce the building's continued use as a residential property.
On July 17, Assistant City Planner Jonathan Lait informed AJ Capital that the city's grandfathering laws preclude the 89-year-old building's conversion to a new use because of its size and density. AJ Capital President Timothy Franzen said he disagrees with that interpretation and told the tenants that they should still plan to move out in November.
Keene, noting that he's retiring at the end of the year, spoke emotionally about the city's intent to respond to the mass eviction — and addressing the city's housing crisis in general — assuring the tenants that "we're not sitting on our hands."
"I was walking downtown three weeks ago, and I took pictures on three blocks of 11 "help wanted" signs on stores, nail salons and everything else," Keene said. "Those are canary in the coal mine signs that we're hurting ourselves by not fully confronting what we can do."