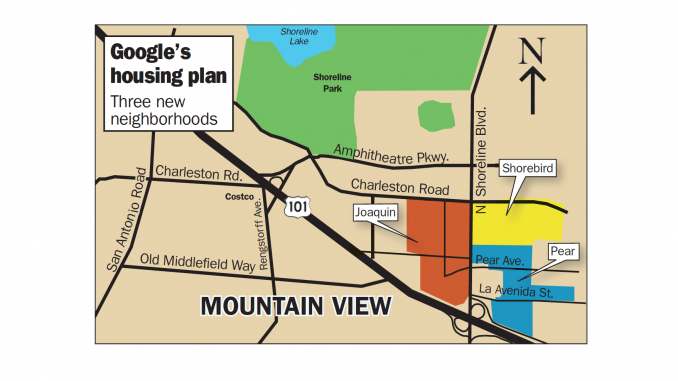 BY ALLISON LEVITSKY
Daily Post Staff Writer
Mountain View City Council took a resounding whack at the Bay Area's housing crisis last night (Dec. 12) by approving an updated version of the North Bayshore Precise Plan, adding 9,850 housing units to the area, including 1,970 units priced at below market rate.
"I think this is a cutting-edge plan that sets a standard not just for the Bay Area, but much of the country," Vice Mayor Lenny Siegel said.
Google previously agreed to build all of the units in exchange for being allowed to build 3.6 million square feet of office space in the North Bayshore. Seventy percent are planned to be studios or one-bedroom apartments.
The unanimously adopted plan establishes three new neighborhoods, Joaquin, Shorebird and Pear, and nudges the area from being an "auto-centric, suburban office district" to pivot toward urban-style mixed use featuring homes, offices, hotels, entertainment, retail and services.
"I'm very proud to be in this position now. This is why I ran for City Council, so I feel like I've been working to get to this point to be able to approve housing in the North Bayshore for quite a while," Councilwoman Pat Showalter said.
In fact, the 2014 City Council election turned on the issue of housing in the North Bayshore. Showalter was among three candidates favoring that position who won that year. The other two were Siegel and Ken Rosenberg.
Building heights will rise and city planning will favor pedestrians, cyclists and transit users over motorists with buildings located closer to the street, with storefronts and homes facing public streets and sidewalks. Parking will be hidden behind buildings, underground or in parking garages.
"I just want to add a cautionary voice about transportation. Housing cannot work unless you have transportation," Councilman John McAlister said. "Mountain View does not want to increase the congestion that they have."
The council chambers were packed, mostly with supporters of the plan including residents, housing advocates, and leaders from organizations including the Mountain View Chamber of Commerce and the Silicon Valley Leadership Group, which lobbies for the interests of tech companies.
"I was surprised when I campaigned last year, going door to door, how folks seemed to be much more open to building housing in our community than they were, frankly, 10 years ago," Councilwoman Margaret Abe-Koga said.
Abe-Koga said she hoped that neighboring cities, including Cupertino, would follow Mountain View's cue.