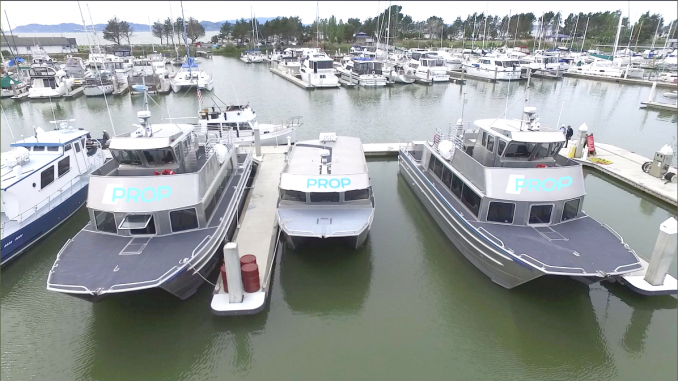 BY EMILY MIBACH
Daily Post Staff Writer
Some six months after ferry company PropSF ended its pilot program shuttling Facebook commuters into the Port of Redwood City, its CEO said yesterday that he's trying to bring ferries back.
Facebook contracted with PropSF to ferry its employees to Redwood City, where they would board one of the social media giant's buses to its Menlo Park headquarters.
During that pilot program, PropSF CEO James Jaber said the company "gained all sorts of knowledge and built alliances with the community." He said he's "ready to go" back to running the company's small ferries in and out of the port.
Jaber said he's working with officials at the port to bring ferry service back to Redwood City but that agreements for this type of thing move "really slowly."
"It is being sorted out, but I don't have a sense of when yet. I wish I did," Jaber said.
Port spokeswoman Meghan Horrigan confirmed that PropSF stopped operating out of the port in December, but would not say whether PropSF is working with the port to bring ferry service back.
The port, along with the city, has been long flirting with ferry service. In 2014, 2016 and 2018, Google and Facebook ran ferries out of Redwood City for employees. In 2007, the port and the Water Transit Authority did an evaluation of ferry terminal locations, designs and environmental assessments.
In February, the city started a new study to see whether a ferry service ought to be operated out of the city's port.
The majority of the money — $450,000 — will come from a grant from the San Mateo County Transportation Authority's Measure A funds. Measure A was a half-cent sales tax approved in 2004 to fund transportation
projects in the county. The remaining $60,000 comes from the city's budget.
The study will include a cost-benefit analysis of running a ferry program. The analysis will look at the benefits that the area would see from a ferry service, assess whether a ferry would induce development near or in the port and see how long it would take to get a return on investment.
The consultant doing the research will also conduct a "financial feasibility study" that will examine potential funding sources and capital costs.
Furthermore, the study will look at possible ferry routes, estimate operating costs, conduct a market analysis and explore potential private partnerships.