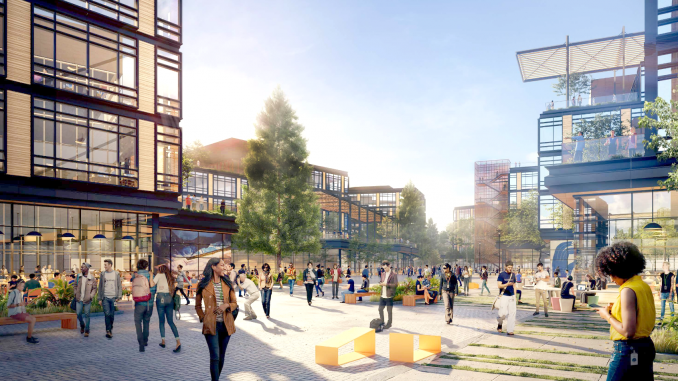 BY EMILY MIBACH
Daily Post Staff Writer
Menlo Park City Council members told Facebook officials that they want to see more housing in the company's 56-acre Willow Village development.
Facebook has proposed 1,500 apartments though the development will have 9,500 employees. And the 1,500 apartments were actually promised by Facebook when it got approval for its Constitution Drive campus in 2017.
Vice Mayor Cecilia Taylor, who represents the council district that includes Facebook, said at a hearing May 7 that approximately 5,900 homes could be built on the entire campus.
However, acting Principal City Planner Kyle Perata said that because of existing zoning, only 1,700 or so homes could be built there.
Councilwoman Betsy Nash asked how many new employees will work at the campus as a result of the expansion. The site, which is the former Prologis campus, now has 3,500 employees. Facebook would add another 6,000 — bringing the total to 9,500.
On the housing side of the equation, the 1,500 new apartments would house 2,250 people, based on the idea that an apartment houses 1.5 people.
That would bring the jobs-to-housing ratio of the project to 9,500 jobs to 2,250 housed people, or 1:4.
Council members said they'd like to see a more balanced ratio between jobs and homes.
Residents ask for more
East Palo Alto residents at the May 7 meeting asked for more than "just a grocery store and a park," referring to the amenities Facebook is offering in return for the project's approval.
Some, such as Oladele Sobomehin, the CEO of nonprofit Streetcode Academy, which teaches children how to code, said he would like to see something from Facebook that would reduce the "digital divide" between Facebook and the residents of East Palo Alto and Menlo Park's Belle Haven neighborhood. That same program would in turn increase the amount of education going toward technology literacy and coding in the area.
School district sees enrollment increase
Sequoia Union High School District board member Alan Sarver commented that the district is nervous about the campus, because it will bring in about 300 new students to the district over time, which is nearly how much the district's TIDE Academy total enrollment will be once it opens next school year. TIDE Academy is a STEM-focused magnet high school that will be near the Facebook campuses at 150 Jefferson Ave.
Mayor Ray Mueller said he wants to make sure all nearby school districts will get what they need from Facebook.
Others from East Palo Alto said Facebook is offering the bare minimum as far as community benefits go.
"I don't know if everyone else was shocked, but saying we just want a grocery store is saying we just want water," said East Palo Alto resident Kevin Coleman.
But Belle Haven resident Sheryl Bims said that despite all the building in Belle Haven that's happened after Facebook arrived in 2012, the neighborhood has not been "made whole" because it is still missing a grocery store, library and other items that most other communities have.
"I commend East Palo Alto. You've been treated better than Belle Haven. But things are shifting and are changing. We hope you get what you want, but we are going to get what we need," Bims said.
Local ownership of retail
Mueller said he would like it if residents were to own some of the stores proposed in the development.
Facebook plans to slow down traffic on the campus with narrower streets "so cars feel uncomfortable," said Mike Ghielmetti, president of Signature Development Group of Oakland, which is working for Facebook to develop the property.
Ghielmetti also said that Facebook is planning on building a bridge or underpass across Willow Road near the train tracks so Facebookers can easily walk, bike or take the company's tram to get from one campus to the next.
"I appreciate the commitments to transit and housing," Mueller said. "And I will be holding you to those commitments."
The nearly three-hour study session began an hour late. The meeting was supposed to start at 6 p.m., but because Councilwoman Catherine Carlton was delayed in a Houston airport on her way back from Guatemala. She did not get to the meeting until 7 p.m. Mueller was out of town in Jefferson City, Mo. but called in to the meeting.
Councilman Drew Combs didn't participate in the meeting because he works for Facebook.
Did you know that only a few of the local news stories the Daily Post covers appear on this website? To get all the local news, including many stories you can't find online, pick up the Post every morning at 1,000 Mid-Peninsula locations.