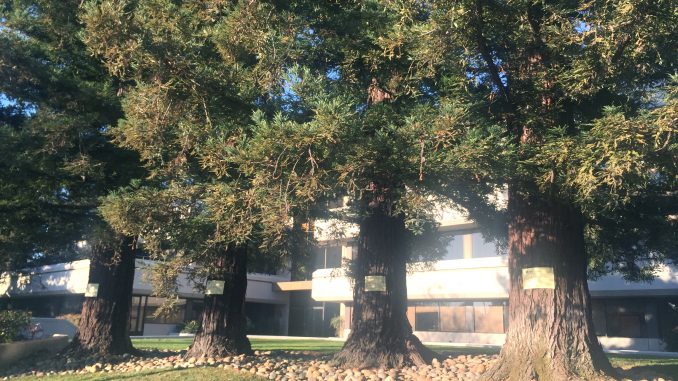 BY EMILY MIBACH
Daily Post Staff Writer
The Menlo Park City Council voted Tuesday (May 14) to approve the removal of seven redwood trees at Ravenswood Avenue and El Camino Real after the building's owner agreed to plant 76 trees throughout the city in their place.
But before council members voted 4-0 (Councilwoman Catherine Carlton was out of town), they heard from residents who wanted to save the trees.
"If you let the ax fall on these trees, then you better think about changing the city's symbol from a tree to an empty surface parking lot," said Roberta Morris.
Ruth Robertson said that property owner Matt Matteson could afford to make repairs to a parking garage threatened by the trees and keep the trees at the same time.
"Cry me a river. He's made tons of money off of businesses in the area," Robertson said.
But of the 17 or so residents who spoke at last night's meeting, a slight majority were in favor of removing the trees in order to fix the building.
"Nature is essential," said Markcum Khouri. "But we need to remove the trees and replace them with 14 better, more compatible and non-destructive trees."
Trees threaten building
Matteson decided last year to remove the trees after discovering structural problems with the building's underground parking garage that's located under the roots of the trees.
Removing the trees is necessary to make the repairs, and if the repairs are not made, the water intrusion and rusting of the foundation in the parking garage will lead to "catastrophic failure" of the building, Matteson said.
The city's Environmental Quality Commission voted March 27 to recommend the removal of the trees. Residents appealed that decision to council.
Residents Judy Rocchio, Peter Edmonds and Jen Mazzon, among others, have been fighting the decision every step of the way.
The group wanted Matteson and the city to find other ways to save the trees and fix the building, but all of the proposals that the group came up with were found infeasible by the city and its consultants.
Replacement trees
In response to those who wanted to save the trees, council asked Matteson to plant 76 trees to make up for the seven that will be removed. He agreed.
The number 76 is significant. Matteson and his father planted 76 trees at 1000 El Camino in the 1980s when the building opened.
Of the 76 new trees, 14 will be planted where the seven trees are being torn out, 12 will be at the city's civic center, and the rest will be dispersed throughout the city, mostly in areas that need more trees, such as the Belle Haven neighborhood, Matteson suggested.