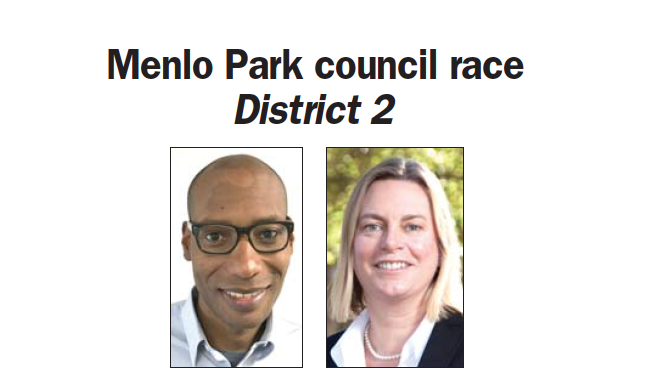 BY EMILY MIBACH
Daily Post Staff Writer
Menlo Park Planning Commissioner Drew Combs is looking to unseat two-term councilwoman Kirsten Keith in the race for Menlo Park's District 2 council seat to represent the Willows, Suburban Park and Flood Triangle, and both have raised concerns about the other's potential role on council.
Keith pointed out that she is able to vote on Facebook-related matters, unlike her opponent, who works for Facebook.
"I can vote on everything. I am not recused on anything coming to council and that's important to note," Keith said.
Combs, 41, is a manager in the user experience unit of Facebook and cannot vote on the Willow Campus project. But, according to City Attorney Bill McClure, Combs could vote on other issues in the Bayshore area where Facebook is located, such as the proposed affordable housing project on Willow Road.
While Keith, has brought up concerns regarding Combs' ability to operate on council given his employer — Combs has raised issues with Keith as well.
China trips
Combs has criticized Keith for her trips to China, saying he is not running for a so-called Silicon Valley Council.
"Having someone from Menlo Park Council come to your event because they represent Silicon Valley is like having someone who guest-starred on 'The Love Boat' come and represent Hollywood or the movie industry," Combs said.
Keith said previously that she and other council members on the mid-Peninsula are often invited to go to China and other countries because people want to learn what happens in Silicon Valley.
Keith went to Chengdu, China, from March 25 to March 27 and while on the trip she likely wore a pin saying she was mayor, despite ending her tenure as mayor three months prior.
Keith told the Post in May that if she had worn a pin saying "mayor," it was inadvertent. A photo distributed by Chinese media showed she was wearing such a mayor pin.
Combs said there ought to be some sort of council approval before a council member goes to another country on the council's behalf.
Combs has also criticized Keith for her Brown Act violation where she spoke to both councilmen Peter Ohtaki and Rich Cline about the city's now indefinitely postponed library project. A majority of the council can't speak about a single subject outside of a scheduled meeting, according to the Brown Act. Three people constitutes a majority on a five-member council. McClure said the violation was inadvertent.
Keith, 51, an attorney, says she is running again to continue her work and advocacy for transportation improvements and the addition of affordable housing in Menlo Park.
Keith and the rest of the council approved the nearly 1,000 new homes, mostly apartment buildings, that opened up in the past year.
While Keith voted for Facebook's Constitution Drive expansion, she said she would not support the possible increase of the office space cap in the city's east side, saying housing needs to be built rather than more office space. Currently, the city's zoning cap for offices on the city's east side is maxed out, largely due to Facebook's Willow Campus.
Combs says he is running because there ought to be new faces on council, and that he wants to ensure that Menlo Park has a responsive city council that has high ethical standards.
Home modifications
He also wants to make it easier for residents to modify their homes. Many homes in District 2, and in Menlo Park in general, are on what are called "substandard lots," meaning they are differently shaped or sized than more conventional lots.
Many residents who live in single-story homes and want to grow their families want to add on to their homes, but since so many homes are on substandard lots — they end up going through a confusing process that usually ends in a Planning Commission hearing.
This is not the first time that Combs has run against Keith for a seat on council. He ran four years ago when Keith was seeking her second term, along with Cline and Ohtaki. But the council is now divided up into districts, and Keith and Combs live in District 2 — which represents the Willows, Flood Triangle and Suburban Park.
Keith told the Post that she is not planning to run for the state Senate seat being vacated by Jerry Hill in 2020.