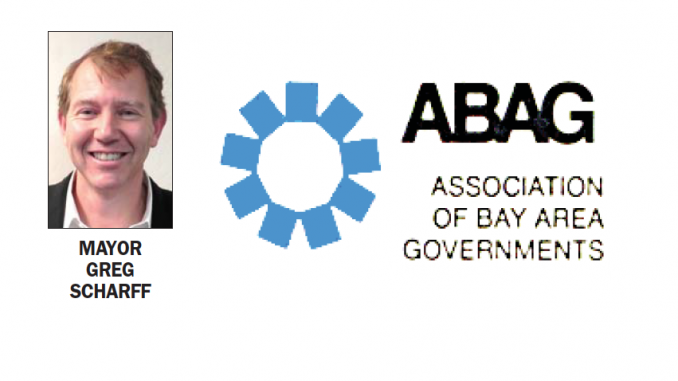 BY ALLISON LEVITSKY
Daily Post Staff Writer
Palo Alto's regional voice on housing matters has been amplified with the election of Mayor Greg Scharff as vice president of the Association of Bay Area Governments, or ABAG.
"We're actually a regional player at the moment," Scharff told the Post Thursday (Nov. 16).
Scharff pulled in 123 votes from Bay Area City Council members and county supervisors, more than his two opponents combined.
Novato Councilwoman Pat Eklund got 68 votes and Oakland Councilwoman Lynette Gibson McElhaney got 38.
The win may bring Palo Alto even more influence in the region, considering that Vice Mayor Liz Kniss heads the Bay Area Air Quality Management District's board.
Scharff also chairs the enforcement committee of the San Francisco Bay Conservation and Development Commission and serves on the San Francisco Bay Restoration Authority.
Housing quotas
ABAG administers the Regional Housing Needs Allocation, quotas for cities to zone new housing that are set by the state's Department of Housing and Community Development.
"I think the system is a little bit broken, frankly," Scharff said.
Scharff said there's some movement toward forming a Santa Clara County subregion committee, in which cities could redistribute housing allocations among themselves.
That way, cities could trade, for example, a certain number of affordable units for a certain number of moderately priced units with neighboring cities.
Currently, Napa, San Mateo and Solano counties have subregion committees.
"I think you want cities to want to build housing, and I think when you have the state say, 'you must build 'x' amount of housing, you build up a lot of resentment," Scharff said.
In 2013, Scharff was one of a handful of local officials to vote against the ABAG-Metropolitan Transportation Commission One Bay Area Plan, which required the region's 101 cities to pave the way for 600,000 new apartments.
Protecting single-family homes
Scharff said he still stood behind the vote. Any push for more housing doesn't have to be met with high-rise buildings, either.
"I don't think you just want a wall of apartments along El Camino Real," he said. Scharff said new apartments don't have to jut into single-family residential neighborhoods, citing the recent update of the Comprehensive Plan's support for these areas.
Serving on committees of ABAG, Scharff said he has learned how housing allocations work and how grants are distributed.
"I think we obviously need to build more housing as a region, but I think there's a lot of local issues that should be taken into account," Scharff said.