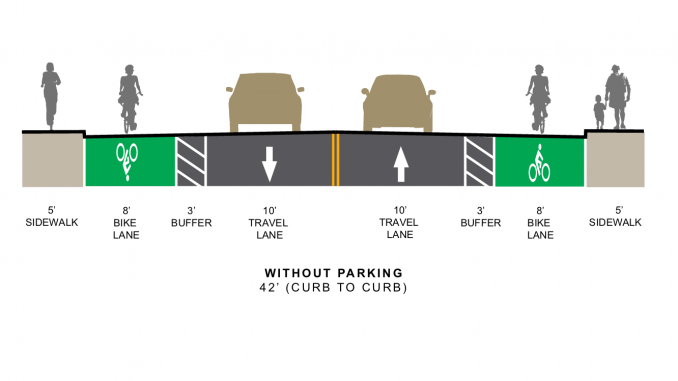 BY EMILY MIBACH
Daily Post Staff Writer
The Menlo Park City Council tonight (May 21) will look at two plans that would eliminate 135 street parking spaces in order to add bicycle lanes along school routes on Middle and Santa Cruz avenues.
Along Santa Cruz, some 17 spaces may be removed in order to install sidewalks and bike lanes between Olive Street and Avy/Orange Avenue.
The project would continue the one completed in 2017 to repave the street, install sidewalks along both sides and add bike lanes.
The city's Complete Streets Commission recommended on April 10 that the council approve this plan, which is what the council will be voting on tonight.
The council tonight will also need to tell Assistant Public Works Director Nikki Nagaya and her team whether they are on the right track for plans to re-do Middle Avenue between El Camino and Olive Street.
The goal, according to a report from Associate Transportation Engineer Kevin Chen, is to make Middle Avenue and Olive Street a bicycle-friendly route so people can bike from Burgess Park to Hillview Middle School.
This could lead to the elimination of parking spaces along one or both sides of Middle, according to Chen's report. If parking along both sides of the street are taken out, that would eliminate 118 spaces.
This project is still being worked on, so council's vote tonight will not be the final one. The design for the plan will be decided on this fall, with construction happening along portions of Middle Avenue between 2020 and 2022.