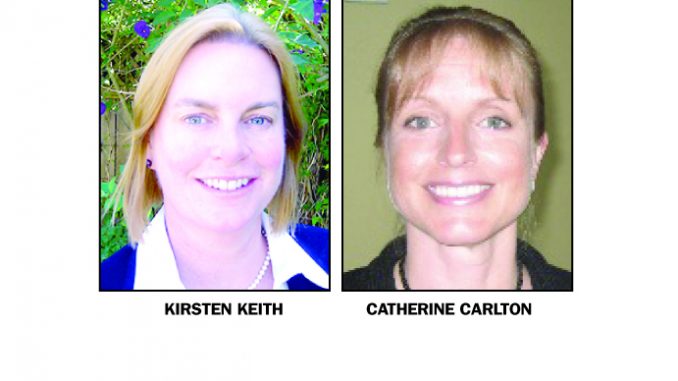 BY EMILY MIBACH
Daily Post Staff Writer
Menlo Park City Councilwoman Kirsten Keith defended herself last night (Sept. 11) over criticism about her trip to China and said it was an opportunity for her to spend some time with her daughter.
The criticism and her defense came during a council meeting to discuss a proposed policy for the conduct of council members who accept free trips.
Resident George Fisher, who made a nine-minute presentation to council, was critical of overseas trips taken by both Keith and Cartherine Carlton and he alleged that both signed documents while abroad that the council had not given them permission to sign.
Keith, who is running for a third term in the November election, said she did not sign anything while in China, and City Attorney Bill McClure said he's not aware of anyone signing an unauthorized document. McClure also said that once while Carlton was abroad, she called McClure to double-check the language of a document that had been presented to her. Fisher did not say what document it was that Carlton allegedly signed while abroad, nor did he produce the document at last night's council meeting.
Who pays for the trips?
Fisher also expressed a concern about the ambiguity of the foreign trips. He pointed out that Keith's trip to China in March was paid by a group funded by the Chengdu government, which was using the trip to promote the opening of an office in Silicon Valley. Fisher said that concerned him because Chinese companies have stolen intellectual property from American companies before.
"What we need is to balance self-interest from going over and being manipulated by someone else," Fisher said.
Keith pointed out that council members from Mountain View, Belmont and Half Moon Bay have taken such trips, too, and she said Carlton has gone on trips with council members from East Palo Alto and Redwood City.
Missed Facebook development meeting
When Keith went to China in March, she missed a council study session on Facebook's proposed Willow Campus — the largest development in the city's history. But she said that she and her daughter had long planned to spend her college-age daughter's spring break together, and when she was invited on the China trip by former Mountain View Mayor Mike Kasperzak, Keith decided to take her daughter along with.
"I planned to be with my only daughter for her spring break and that's really important to me. Study sessions are important too," Keith said. "But the most important times are when we have meetings where we vote on projects." No official votes are taken during study sessions.
While Fisher spent most of his nine minutes before council criticizing Keith, he also mentioned Carlton's international travel. Carlton did not spend much time defending herself after Fisher spoke, other than chiming in that she sent McClure the document that appeared to be different than the one she had permission to sign. Neither she nor McClure mentioned where Carlton was or what she was signing at yesterday's meeting.
State agency investigating
Fisher has filed complaints with the state Fair Political Practices Commission about trips by Keith and Carlton. Specifically, the FPPC wants to know if the nonprofit that paid for the trips is in fact a 501c(3), which can give politicians gifts that exceed the state's $470 limit on gifts to politicians. Other types of nonprofits are limited on the amount of gifts they can give to politicians.
Amidst the discussion of the councilwomen's travel, the council began to lay out guidelines for council members to follow while traveling abroad.
Keith recommended that McClure put together a form letter for council members to send when they get a request to travel abroad. The letter would ask for translated copies of anything council members may be asked to sign or would be signed in their presence and a public appearance itinerary with a list of who else will be present.
Keith also requested that McClure include in the proposed policy that will be coming back to council a requirement that council members get FPPC opinion letters on whether or not their trips are permissible under state law.
Reimbursement policy
The council did unanimously approve an updated travel policy from McClure regarding city-funded trips. However the new policy primarily covers what the city will reimburse council members and city employees when traveling on behalf of the city.
The new policy now expressly prohibits council members or employees from getting reimbursements for any personal aspects of the trip, family, pet or guest expenses, or any entertainment expenses. The policy also says the city won't pay for traffic citations.