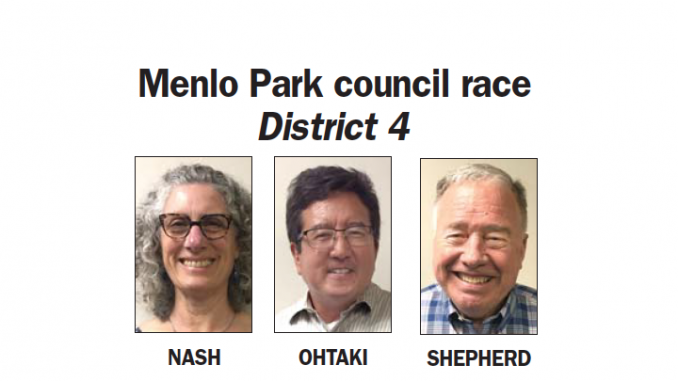 BY EMILY MIBACH
Daily Post Staff Writer
Two people who are hoping to shake things up on Menlo Park's council are running against two-term incumbent Peter Ohtaki for Menlo Park's District 4 council seat to represent the Allied Arts neighborhood and the area between Santa Cruz and Valparaiso avenues.
Ron Shepherd, a member of the city's Finance and Audit Committee, says he will dissect the city's budget and work to determine if the city's money is truly being spent well. Betsy Nash, who serves on the city's Complete Streets Commission, is firmly against new commercial development in town and says the city has not driven hard bargains with developers.
Ohtaki voted for three large office developments in the past two years — Facebook's Constitution Drive expansion, Greenheart's housing and office development at 1300 El Camino Real and Stanford's housing and office development at 500 El Camino.
Ohtaki, who has been on council for eight years, is asking for another four- year term. He was on the Menlo Park Fire District's elected board from 2007 to 2010. Ohtaki, 57, grew up in Menlo Park and is a vice president at Wells Fargo, where he is responsible for making sure the company can still operate in case of a disaster. He often refers to himself as the "numbers guy" on council, and often takes deep dives into the city's finances in an attempt to save taxpayers some cash.
Ohtaki says he wants to create a strategic financing plan to prioritize the top 10 most important projects in the city — such as road improvements — and how to fund them, be it through some of the new state and county taxes that the city will be seeing revenue from or from the two new hotels in town.
While Ohtaki has held elected office for about a dozen years, one of his opponents — Ron Shepherd — served on the West Bay Sanitary District's board for 16 years.
Ron Shepherd
Shepherd, 77, says he is running to make sure that the city's taxpayers are being taken care of. Shepherd says there is a "lack of planning and thoughtfulness" on the council, where projects are considered one at a time and not all together to see how everything will impact one another.
Shepherd has lived in Menlo Park since 1973.
Shepherd says one of his priorities will be immediately looking for ways to reduce the bottlenecks at El Camino and Willow Road, as well as reviewing the city's finances.
Shepherd also says the city ought to at least consider selling its water system to another entity in order to save money. Since Shepherd was on the West Bay Sanitary Board, he's familiar with the cost of replacing water infrastructure, and just how costly it is. Instead of the city figuring out how to finance $35 million worth of water infrastructure repairs — Shepherd says now is the time to sell it.
Betsy Nash
Nash, 63, says she is running because the current council has failed in making the hard decisions when it comes to development. Nash notes that traffic and the jobs/housing imbalance in the city is "terrible" and the way that the city has dealt with large developers who've come to town is why.
Nash says that moving forward, the city needs to take a holistic approach to development, especially in terms of housing, that no office caps in the city's downtown or east of Highway 101 zoning plans ought to be raised, but instead the building boom be shifted to building housing.
Nash is a supporter of the proposed renters relocation ordinance, which would make landlords pay tenants three months rent if they evict a tenant for no good reason and raise the rent higher than the consumer price index plus five percent. Currently, the CPI is 4.3%. If this proposal were the law and if a landlord raised the rent by more than 9.3%, and that forced a tenant to move out, the landlord would have to pay the tenant.
While opponents of the ordinance say it is rent control in disguise, Nash says that she disagrees with that characterization. Nash says that since landlords can still raise their rents within a "fair amount," it's not rent control.