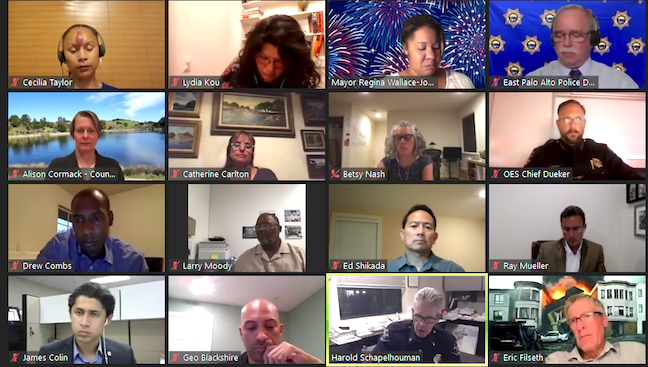 BY EMILY MIBACH
Daily Post Staff Writer
Starting a fireworks buyback program, creating safe zone for people to set off fireworks and having residents talk to each other about the dangers of fireworks.
Those were a few of the ideas that came up last night (June 29) during a rare joint meeting between officials from East Palo Alto, Menlo Park and Palo Alto to address the soaring number of illegal fireworks that have been fired off in the past few weeks.
The entire East Palo Alto and Menlo Park councils were in attendance, as were Palo Alto council members Alison Cormack, Lydia Kou, Eric Filseth and Greg Tanaka.
Officials want to see if they could reduce the number of illegal fireworks that are being set off ahead of Independence Day.
There was also a discussion about safety. Menlo Park Fire Protection District Chief Harold Schapelhouman said that there have been six fires in the past month in East Palo Alto started by fireworks. One of those fires happened Sunday night at Bell Street Park. The Menlo Park fire district also serves East Palo Alto.
Both Palo Alto Police Chief Bob Jonsen and East Palo Alto Police Chief Al Pardini said they think that the proliferation of fireworks is because all of the major firework shows in the area have been canceled, and the unused fireworks have been sold to nonprofessionals.
All three police chiefs said their officers have been trying to respond to fireworks calls, but it is difficult to arrest anyone because, by the time police officers show up on the scene, the people who set off the fireworks are gone.
Pardini said there are some people who drive around town shooting off fireworks.
He also said there are competitions between people on streets, where someone will walk outside their house, set off a firework, and go back inside. A few minutes later, someone a couple of doors down will do the same thing.
"So these residents are hit with one (blast) after another," Pardini said.
East Palo Alto has a device called a ShotSpotter that detects when gunshots and gives police an approximate location of where the shots were fired. The device also picks up fireworks, but puts that information into basically a spam filter. So police can look through that spam filter and determine where fireworks "hot spots" are around town.
Pardini also said that his department is working on some "confidential investigations" related to fireworks that he will announce the outcome of next week.
Palo Alto Councilman Greg Tanaka asked Pardini if the police dust spent fireworks for fingerprints. Pardini said that such an endeavor would not be fruitful because if a fingerprint matches and police confront that person, all the person could say is that they saw the firework on the ground, picked it up and put it back down.
The councils also discussed ways to decrease the number of illegal fireworks set off every year.
East Palo Alto Councilwoman Lisa Gauthier asked if the police could make it a point to do patrols in hot spots during the day and announce that more patrols will occur on that street at night.
East Palo Alto Councilman Ruben Abrica said that the city's residents need to get engaged in trying to stop the people they know who are setting off the fireworks. He brought up ideas such as engaging local activists and leaders to talk to residents about the dangers of fireworks.
"I am not advocating that we chase people down. But … if we know who is doing it, then some people with the authority and compunction can go and talk to … those people directly," Abrica said. "If you know them, then talk to them, or if you don't want to, let me talk to them."
Abrica said leaving all of the education and enforcement to the police is not fair and if people do leave it up to the police, they will be disappointed with the outcome.
Menlo Park Councilman Ray Mueller suggested a fireworks buyback program, similar to a gun buyback program where people bring their unwanted guns to an event run through the sheriff's office and they get money for their guns. Mueller said that part of the issue with just telling people not to set off fireworks is that some people have already bought them and don't want to waste their money.
Palo Alto Fire Chief Geo Blackshire and Menlo Park Chief Schapelhouman said that their agencies will pick up fireworks from people who don't want them anymore.
Schapelhouman said that he would prefer if people called the fire department and let firefighters come and pick up the fireworks because some may be unstable and unsafe to move.
Menlo Park Councilwoman Betsy Nash asked if Schapelhouman would be open to having the fire district run the fireworks buyback since they have the expertise and are not facing budget cuts like Menlo Park is. Schapelhouman said that it is something the district's elected fire board would have to discuss and for the agencies attorneys to look into.
East Palo Alto Councilwoman Larry Moody suggested that the cities set up a place for people to safely set off their fireworks.
Some residents questioned why the meeting was happening last night and not last month.
"I feel like I am living in a war zone, with bombs going off every night. It's been going on since the first of June," said East Palo Alto resident Luella Parker. She added that her daughter is in school to get her master's degree, and had to rent a hotel room in order to study for her finals this week.
Some, just want relief. East Palo Alto Planning Commissioner Robert Allen Fisk said he likes Gauthier's idea and that he would like for the loud fireworks such as the cherry bombs to stop, and that in fact during the meeting, at least one cherry bomb was set off in his neighborhood.