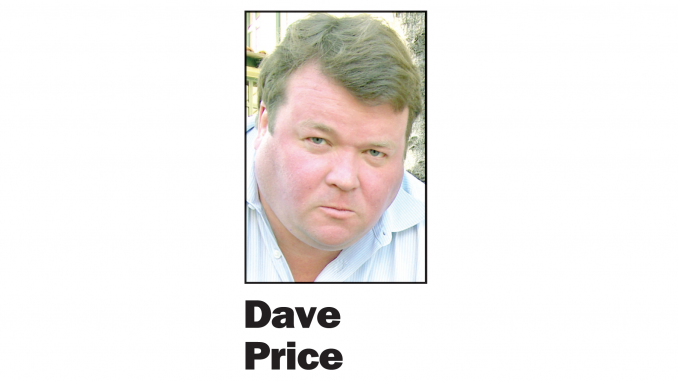 OPINION
BY DAVE PRICE
Daily Post Editor
I think the idea of replacing the Menlo Park Library at 800 Alma St. with a brand new one is dead, but another exciting idea is on the horizon for the city.
This afternoon (Jan. 29), the Menlo Park City Council will set its goals for the coming year, and the $32,000 survey of residents the city recently commissioned should influence council members' priorities for 2018.
To sum it up, there isn't enough support for a bond measure to build a new library to replace the totally adequate library that now exists. A bond measure needs to pass with two-thirds of the vote, but the poll — using a question that was rigged to get a "yes" response — found only 61.3% of likely voters would support such a measure.
I say it was rigged because, instead of asking simply "yes" or "no" about a bond measure, the wording suggested the current libraries downtown and in the Belle Haven neighborhood didn't meet fire or seismic codes. I can see how structures built years ago don't meet the seismic standards for new construction, but the libraries don't meet the fire code? Really? And the fire district hasn't red-tagged them? Would anyone let children attending story time die in a harrowing fire?
Here's how the pollsters from Godbe Research phrased the question:
To replace the aging Menlo Park and Belle Haven library system with 21st century libraries that meet earthquake and fire codes with space for:
• children's books and story times;
• homework centers;
• computer workstations for software training;
• up-to-date book and resource collections;
• quiet reading; and
• improved senior and disabled access;
shall Menlo Park issue $50 million dollars in bonds at legal rates for 30 years, as the Voter Guide describes, requiring independent citizen oversight, and all funds for Menlo Park libraries?
Even with a question worded like that, only 27.1% said they'd "definitely" vote yes and another 34.2% said they'd "probably" support a property tax increase to pay for a bond issue. That only brings the support to 61.3%, short of the two-thirds threshold, which means this issue is dead.
The whole reason why the city was even talking about replacing the library was that billionaire John Arrillaga said he would donate $35 million toward the project if the city coughed up $20 million as a match.
The perception left by this offer is that Arrillaga, who has his name on a gym in Menlo Park and buildings at Stanford, wanted a library named after him too. It would be a vanity project.
The city might try to come up with its $20 million by raising the utility tax, which also applies to cellphones, but that would require a simple majority vote to pass. The survey found that 53.4% of likely voters either "strongly" supported or "somewhat" supported raising the utility tax, which now is at 1%. Does that mean it would pass?
Look a little more closely at the survey and you'll find that only 28.9% "strongly support" such a measure while 31.2% would "strongly oppose" it. In other words, there's more intensity amongst those who would be opposed than those who would support it.
On the other hand …
What's exciting about the survey is that there is strong support for Councilman Ray Mueller's idea of building a parking structure with retail and a movie theater in one of the parking lots near Santa Cruz Avenue.
The survey found that 74% of likely voters either strongly supported or somewhat supported a multi-use parking structure. That's a mandate, and it should go to the top of the council's priority list tonight.
Look, it's no secret that Santa Cruz Avenue is suffering. The years of hearings and debate that resulted in the El Camino Real and Downtown Specific Plan appear to have had mixed results, and that's being kind. The plan paved the way for two monster developments, the 420,000-square-foot Greenheart development at 1300 El Camino and the 429,000-square-foot Stanford project at 500 El Camino. But little has happened downtown with the exception of a couple of restaurants being allowed to put tables on the sidewalks, and that wasn't even part of the original plan.
Revitalizing downtown
A parking structure with stores on the ground floor along with a movie theater would add the spark that downtown has been missing. Combine that with the promising plan to turn the Guild Theater into an entertainment venue, and Menlo Park could once again become an exciting, vibrant destination.
For the better part of 20 years, Menlo Park officials have talked about building a parking structure, but it's never materialized. Now, with the poll and this idea of combining the structure with retail and a theater, it's time to get this done.
Editor Dave Price's column appears on Mondays. His email address is price@padailypost.com.