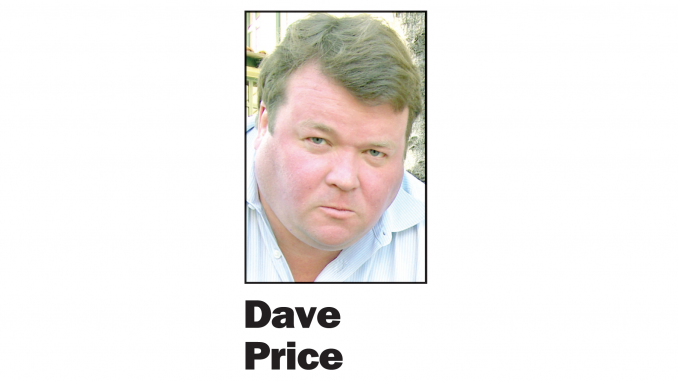 OPINION
BY DAVE PRICE
Daily Post Editor
There are two sides to every story, and there's another side to the story about the proposed 60% toll hike on seven of the bridges that cross the Bay.
What's come out in the press so far is that the increase will pay for "three-dozen much-needed regional public transportation and roadway improvement" projects, as the Chronicle put it in a news story. The italics are mine.
That's the spin: Give us more of your money for these much-needed projects and we'll reduce traffic.
But it never seems to happen. We have one of these transportation measures on the ballot every year or two, and the traffic keeps getting worse. The money is shifted to mass-transit projects like BART while little or no capacity is added to the freeways. Mass transit doesn't work for most people (less than 1% of residents use Caltrain regularly) and carpooling and carpool lanes have been a flop.
As a result, it gets longer and longer to get from one point to another. And the people who use those congested highways to get to work are asked to shell out more, not the fat cats like the tech companies.
Highways get short-changed
In the case of the toll hike, called Regional Measure 3 on the June ballot, just 22% of the $4.5 billion raised will be devoted to highway improvements, with most of that going to the East Bay. In the mid-Peninsula, a mere $50 million will be earmarked for highways — money to fund a fraction of the cost to rebuild the Highway 101-92 interchange in San Mateo.
Oh, I forgot to mention that there is $300 million on the spending list to give us toll lanes on our freeways, where a lane that could be devoted to free-flowing traffic will be restricted to carpoolers or those willing to pay a toll that will be electronically collected using Fastrak type devices. Toll lanes make people pay twice for their roads.
If you put toll lanes into the category of highway improvements, then the percentage of the toll hike going to highways increases to 28.6%. But I don't see toll lanes as an improvement.
Non-highway items on the list include $350 million for ferries, which are a nice idea. It must be heavenly to commute to San Francisco in a boat. Why don't you see more ferries? They lose money. The Golden Gate Bridge, which isn't part of this fare hike, uses tolls to subsidize ferry service, among other things. Bridge tolls paid off the debt to build the Golden Gate in 1971, but the board that runs that bridge wanted to keep its bureaucracy alive, so they kept the tolls going and got into the ferry and bus business.
BART-to-San Jose sinkhole
The spending list also includes $350 million for the BART-to-San Jose cash sinkhole. Santa Clara County voters have repeatedly passed sales tax increases so that San Jose leaders can build a $4.7 billion tunnel from the Berryessa Flea Market station to downtown and Santa Clara. That project has gobbled up 80% of the money from the 2000 and 2008 sales tax increases, and I fear there is no end in sight once the digging begins.
Among the promoters of this toll hike is Carl Guardino, head of the Silicon Valley Manufacturing Group, a lobbying organization for the area's biggest corporations. It seems to me that Guardino's job is to make sure his members never pay for transportation projects, so he's always pushing a sales tax increase or toll hike in order to shove the burden onto the middle and lower income levels.
(I'm always amazed at how the Palo Alto City Council will give Guardino an hour of its time before every tax hike vote so he can give his pitch, while the regular citizen just gets three minutes at the microphone.)
If Regional Measure 3 passes, tolls would rise over six years to $9 on the Bay Bridge and $8 on the other state-owned bridges, including the Dumbarton and San Mateo. The base toll now for a car is $5 except for the Bay Bridge, which charges $6 from 5-10 a.m. and 3-7 p.m.
The toll would increase by $1 in 2019, another $1 in 2022 and $1 in 2025.
$62.50 more a month
For the driver who uses the Dumbarton or San Mateo Bridges and works 250 days a year, the tolls now cost him $1,250 a year. The increase would mean that driver would be paying $2,000 a year in tolls, an increase of $750 a year, or $62.50 a month.
To high-income people, $62.50 more a month isn't a problem. But for the middle- and lower-income commuters, it's a serious hit.
Yet the very politicians around here who like to say they're on the side of the poor and working class will endorse this toll hike. They're part of the elite who think these increases are no big deal. They're oblivious to the plight of the working class who are being pushed out because of the rising cost of living.
If you confront one of these elites about this, they'll turn it around and say, "How would you fund all of these projects?" My answer? California has some of the highest sales, property and income taxes in the nation if not the highest. Make it work with the money you're already getting. Cut the fat. Live within your means.
More taxes on the way
Yet, more of these let's-soak-the-middle-class measures will be hitting the ballot in the future. In November, it appears San Mateo County will ask voters to raise the sales tax a half-cent for more transportation projects. And in 2020, it looks as if Caltrain will go for its own sales tax.
It just doesn't stop. And they'll keep putting these increases on the ballot as long as voters keep saying "yes." It's time to say "no."
Editor Dave Price's column appears on Mondays. His email address is price@padailypost.com.