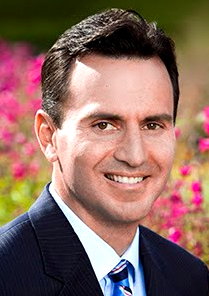 BY EMILY MIBACH
Daily Post Staff Writer
A parking garage with an entertainment center — such as a movie theater — may be catapulted up the Menlo Park City Council's to do list.
Polling released to the city on Tuesday revealed that 74% of polled residents would support seeing a three-story "multi-use parking structure" downtown. City Councilman Ray Mueller, has been calling for a structure like this since 2014 and said he was excited to see the poll results.
"It confirmed the feedback I've been getting from residents for a long time," Mueller said.
Burlingame-based pollsters Godbe Research asked residents if they would support a seven-, five- or three-story parking garage that also has housing or retail space. The three-story option drew the most support.
An exciting downtown addition
Mueller said he thinks a three-story structure with some additional underground levels for parking would be exciting for downtown Menlo Park and suggested that perhaps the bond measure that's being sought to fund rebuilding the city's two libraries could also be used to fund a portion of the parking structure.
Mueller says he believes that residents would get behind the bond measure if it included the parking garage.
The poll showed that a bond measure for the library wouldn't win the two-thirds support necessary for passage.
City Manager Alex McIntyre said he anticipates the parking garage will be moved up the council's to do list at its Jan. 29 goal setting meeting.
City's quality-of-life ratings drop
While support was high for the parking garage, residents overall were less satisfied with their quality of life in Menlo Park.
When Godbe last conducted a study like this in 2015, 86% of respondents were satisfied with Menlo Park. However, the 2017 data says 72.9% of respondents were satisfied with their quality of life in the city.
Godbe's Charles Hester said Tuesday that it's likely the quality of life numbers are down largely because of traffic.
Hester said other cities where there are major east-to-west and north-to-south arteries cutting through them, such as San Rafael, Hayward, South San Francisco and Concord, showed lower ratings for quality of life from residents.
The poll data also showed that the city got low marks from residents when it came to city planning (Hester said the lack of low-income housing in the area was likely to blame) and traffic flow in both neighborhoods and during commute time.
McIntyre said he wants to "drill down" and talk to residents and groups to see how the city can improve its quality of life.
The survey, which involved phone calls and online polls, was completed in December and cost the city $32,000.