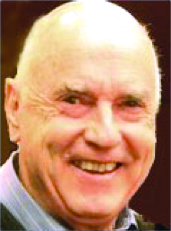 BY EMILY MIBACH
Daily Post Staff Writer
While a pollster asked likely 2020 voters if they would support a $50 million bond measure to fund the city's library, city officials are aiming for such a measure to be on a ballot this year.
City Manager Alex McIntyre said yesterday (Jan. 17) that putting a bond on the ballot this year has always been the plan, especially since billionaire John Arrillaga, who is willing to fund $35 million of the $55 million main library rebuild, expects decisions regarding the project to be made quickly.
However, the outlook for a bond measure, based on the numbers the City Council received from Burlingame-based pollsters Godbe Research on Tuesday, is not encouraging. A bond issue needs 67% of the vote to pass, but
only 61.3% of likely voters surveyed said they would vote in favor of the bond measure.
Another poll likely
McIntyre said the results from Godbe were not conclusive, since the questions were a part of a larger survey to help city officials create the city's list of projects for the year. The city will likely conduct another poll specifically about the bond measure.
There are two options for funding the bond measure, McIntyre said. The money could come from an increase in property taxes. Or the city could collect the full 3.5% of utility tax allowed and use that money to pay off the bond measure. Currently the city only collects 1% of the utility tax even though residents have approved raising the maximum rate to 3.5%.
While the bond measure might not pass, according to Godbe's poll, raising the utility tax might, since 53% of likely voters would approve the tax, which needs 51% approval.
McIntyre said yesterday that the council will likely discuss in March or April which funding option to place on the ballot. The survey also showed that 76.6% of respondents supported improving the two libraries in Menlo Park.
However, that question didn't ask whether the respondent was willing to pay for the improvements.
When Godbe was conducting the poll in December, residents were complaining that the questions seemed to be skewed in favor of a new main library to replace the current one.
Residents complained about poll
Residents had emailed the council in December to say they felt the survey didn't give them an opportunity to say they opposed spending $20 million on a new library when the existing library seemed adequate. And others had
said they only want to see the Belle Haven library be rebuilt.