This story was printed in the Post this morning, Feb. 28.
BY ALLISON LEVITSKY
Daily Post Staff Writer
Starbucks' plan to close 150 "underperforming" stores nationwide this year has struck three mid-Peninsula locations, shuttering cafes in Palo Alto, Menlo Park and Mountain View.
The Starbucks at 863 El Camino Real in Menlo Park closed Feb. 1, closely following closures at Midtown Palo Alto on Jan. 25 and at Mountain View's Blossom Valley center in December.
Starbucks fans can still get their fix at more than 20 locations between Menlo Park, Palo Alto and Mountain View.
But the closures have shown that even though Starbucks is ubiquitous, neighborhoods can get attached to their local outpost.
At Midtown Palo Alto, dozens of neighbors posted on Nextdoor lamenting the closure. Some even started an online petition to try and urge Starbucks to keep the store open, with 150 people signing in support.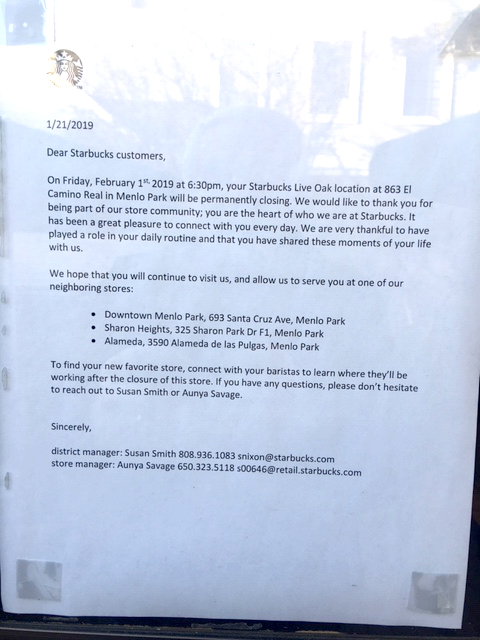 Former Mercury News columnist Mike Cassidy even wrote an online tribute to the Midtown Starbucks — and the family rituals he had established there for years — called "Pour One Out for the Starbucks at Middlefield and Colorado."
"It was a gut punch, like a celebrity death or a valued co-worker leaving the company," Cassidy wrote.
Rent didn't go up
The store's landlord, Tim Foy of Midtown Realty, said Starbucks had been there for 18 or 19 years. Rumors circulated that Starbucks was leaving in response to a rent increase, but Foy said he hadn't raised the store's rent prior to the closure.
"We're very sorry to see Starbucks gone. We thought they were a wonderful tenant," Foy told the Post. "We're doing everything we can to bring in a nice tenant to complement the neighborhood."
Foy said he had been in talks with some potential tenants but hadn't signed anyone on yet. The space has to be leased to a retail store or restaurant per the city zoning code.
Affection for Starbucks
And evidently, Palo Altans aren't alone in getting attached to their local Starbucks.
Some 788 people have signed an online petition called "Keep Our Very Special Starbucks Open," protesting the closure of a Starbucks on Manhattan's Upper West Side.
Starbucks regular Michael Schertz wrote on the petition that the store had "added enormous value to our community over the years and which, far more than any other Starbucks store we've ever experienced, has actually embodied the human and social ideals the brand presumes to espouse."