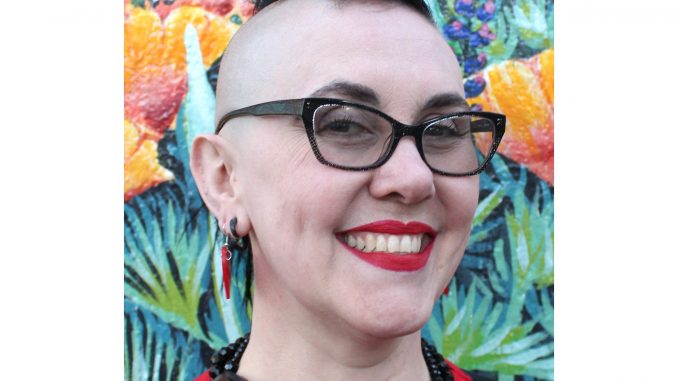 BY ALLISON LEVITSKY
Daily Post Staff Writer
The Palo Alto man who a woman berated at Starbucks over his Make America Great Again cap said yesterday (April 5) that he doesn't think she should have lost her job — or suffered death threats and other online attacks — over the assault.
"I don't believe in death threats or anything like that… I'm against, generally, intimidation and threats," Victor, 74, told the Post. "I don't think anybody should lose their job over something like that. You've got to make a living."
The firing and threats weren't the only life-changing consequences this week for Rebecca Parker Mankey, who also quit the Bayshore Progressive Democrats, a club where she served as co-chair.
Mankey hasn't returned the Post's requests for comment.
It all started when Mankey, 46, of Palo Alto, posted on Facebook that she had yelled at Victor about hating "brown people" when she walked in to the California Starbucks on Monday (April 1) and noticed his hat.
Victor is an observant Jew and wears his MAGA cap over a yarmulke.
"He will never forget me and will think seriously about wearing that hat in my town ever again. If you see him in this hat, please confront him," Mankey wrote on Facebook. "He wouldn't call the police, so I called him a wimp. He got his stuff together to leave. I followed him to the register while he complained about me."
Mankey also wrote that she wanted to find out Victor's name, his wife's name, where he lives and where his kids go to school, seeming to imply an intent to "dox" or publish his contact information with malicious intent.
On Tuesday (April 2) morning, Trump supporters on Twitter shared the post widely, spurring hundreds of vitriolic online attacks against Mankey and a flood of angry calls to Gryphon Stringed Instruments, where she worked as an accountant and office manager.
Mankey was fired from Gryphon Strings on Tuesday (April 2) and on Wednesday (April 3) quit the Bayshore Progressive Democrats.
"Bayshore Progressive Democrats seeks a world that works for everyone, where all humans have a chance to realize their full potential and to live lives of dignity," the progressive group posted on Facebook early Thursday morning. "Harassment and abuse are inconsistent with these values, and we reject the use of such tactics in civil society."
The group had previously denounced the attacks on Mankey, stating on Tuesday night that she and her family had been doxxed, and received several death threats and other threats of injury and harm.
"Parker felt strongly that she wanted to use her privilege as a white woman to stand up for those who are living in fear because of the hateful atmosphere fostered by Trump," the group wrote. "Unfortunately the manner in which she chose to stand up against a slogan that stands for racism led to an even stronger hateful response that has endangered her and her family."
Online attacks
Trump supporters on Twitter have called Mankey a "walking shred of human debris," a "fascist tyrant" and a "toilet brush," among other attacks.
But Victor said that while he doesn't agree with attacking or threatening people online, he sees many online attacks — even if they mention violence — as excessive rhetoric akin to dialog in a "cowboy movie" that doesn't pose a real threat.
"I don't think, in Palo Alto specifically, Rebecca has much to worry about. We're not in rural, rural Alabama or something," Victor said.
Both Mankey and Palo Alto Human Relations Commissioner Steven Lee, who was also harassed online after posting a statement about the incident at Starbucks, have deactivated their social media accounts.
Lee declined to comment on the record about the online harassment.
Reporter receives threat
And this reporter received a threatening Facebook message yesterday from an Ohio man who seemed to have confused the name on the story's byline with Mankey.
"Hello Allison. I saw you were in the news for attacking an elderly man at Starbucks," read the message from John Mcnamara. "Just wanted to let you know that you are the true Nazi and a worthless human being."
Mcnamara went on to say that he had "banned" this reporter — seemingly by mistake in an attempt to ban Mankey — from the Starbucks that he runs in Dayton, Ohio.
"I would like you to know that your pic is up and you are banned for life from my businesses," Mcnamara wrote. "I know you may never visit Dayton but it's a small step my Hispanic wife and I can take to stand up to bullies like you."
Mcnamara said that he and his wife bought MAGA hats yesterday (April 5) to support free speech.
Then, in an apparent nod to Mankey's attempt to find identifying information about Victor, Mcnamara gave his home address in Uniontown, Ohio, outside of Akron.
"My kids are out of school so you don't need to know where they go," Mcnamara wrote. "But you are more than welcome to send (Black Lives Matter), (Council on American-Islamic Relations), socialist Democrats or any other racist group you want after me for owning it."
Mcnamara then warned that Ohio residents "enjoy" their Second Amendment rights and that he has pistols, AR-15s, shotguns and an MP5 submachine gun at home, "all legal."
Victor, meanwhile, said he hadn't received any serious threats. When he went back to Starbucks on Thursday — without his MAGA hat — a woman approached him and introduced herself as a progressive, but told him that she agreed with his "side of the story."
The closest thing to a threat came when a man named Alex told KCBS off-screen that after hearing the story, he went to Starbucks on Thursday hoping to confront Victor about his hat.
"Stay out of my town, you MAGA hat-wearing people," Alex told KCBS in a story aired yesterday. "The basis of what he's doing is so incredibly hateful and evil that it needs to be called out."
Other than that, Victor said it's been "all quiet on the Palo Alto front."
Mayor's reaction
Mayor Eric Filseth yesterday condemned Mankey's confrontation with Victor, but said it "remains to be seen" whether the City Council will make a statement about the issue on Monday.
"The intolerant behavior exhibited is not consistent with our values here in Palo Alto," Filseth told the Post. "The City Council is going to review it and decide what course of action makes sense."