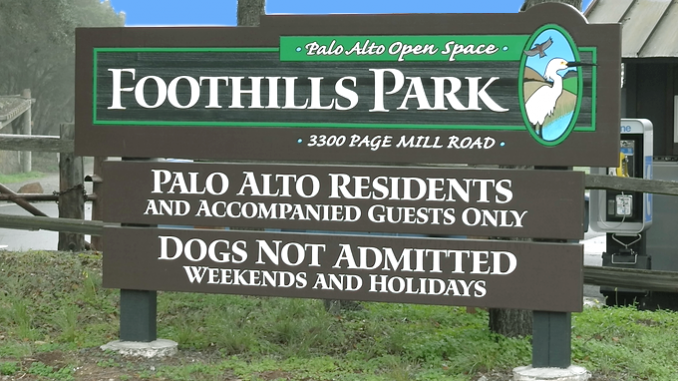 BY KYLE MARTIN
Daily Post Staff Writer
Foothills Park could be opening to non-Palo Alto residents sooner than expected.
The city released a statement last night (Oct. 22) saying City Council would vote Nov. 2 on a proposal to open the park by the end of the year, reversing a council decision in August to open the park on a trial basis for one year followed by an election to determine if it should be opened permanently to non-residents.
The change of heart comes five weeks after the ACLU of Northern California sued the city over the ban, claiming it is racist and discriminatory.
The announcement last night about the new proposal came in a statement from Mayor Adrian Fine and Vice Mayor Tom DuBois, neither of whom are running for re-election this fall.
"We believe this is the best way forward for Palo Alto and our surrounding neighbors," the statement from the two councilmen reads.
The council's decision on Aug. 3 to hold an election in 2022 over the park was by a 2-5 vote. Fine and Alison Cormack voted against it, while DuBois, Eric Filseth, Greg Tanaka, Lydia Kou and Liz Kniss voted in favor of the trial followed by an election.
The city estimates that it spends about $90,000 a year keeping non-residents out. One reason Palo Alto prohibits non-residents from using the park is to keep Los Altos and Los Altos Hills residents out because those cities refused Palo Alto's invitation to help pay for the park in 1959.
Cormack said in August the extra money for the pilot program should come from the $744,000 council put in a COVID-19 "uncertainty reserve" fund primarily for the Community Services Department.
The lawsuit against the city to open the park — filed Sept. 15 in Santa Clara County Superior Court on behalf of the NAACP of San Jose/Silicon Valley and 10 other plaintiffs who are residents of Palo Alto, East Palo Alto and other neighboring cities — claims excluding non-residents from the park violates both state and federal freedoms allotted to the public.
The campaign to open Foothills Park emerged in June when several mid-Peninsula residents and elected officials, led by retired judge LaDoris Cordell, sent an open letter to the city. Among those signing the letter were Congresswoman Anna Eshoo and Assemblyman Marc Berman.