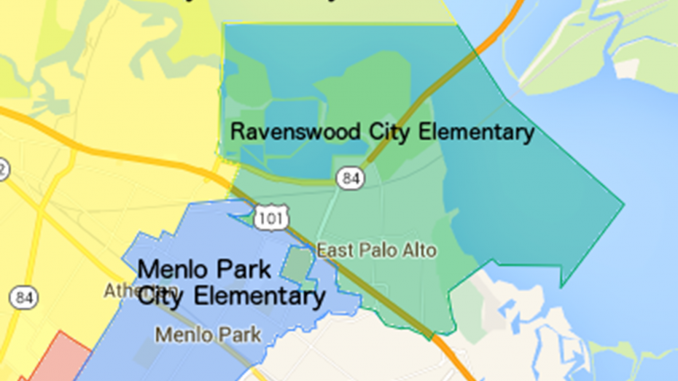 BY EMILY MIBACH
Daily Post Staff Writer
Local officials yesterday (March 6) reacted to Menlo Park Mayor Ray Mueller's suggestion that the Sequoia Union High School District absorb the Ravenswood City School District, with one school Sequoia board member saying the idea could have some problems and an East Palo Alto councilman arguing that Ravenswood ought to determine its own future.
East Palo Alto Councilman Ruben Abrica said he was surprised by the proposal. For the past few years Abrica has been a regular attendee of Ravenswood district meetings, and has pointed out some of the corruption in the K-8 district, such as Ravenswood Superintendent Gloria Hernandez-Goff putting her son on the district's payroll.
"I appreciate that people in other positions are trying to help, but there is a part I don't like because it's a little presumptuous for anyone from the outside (of the district) to be trying to decide their future," Abrica said.
Abrica also noted that after the November election, the Ravenswood board has a reform-minded majority that has taken steps such as suspending Hernandez-Goff.
Abrica said he wants to see things "settle down" in the district before launching into whether the district ought to be changed.
The Post reached out to Ravenswood Board President Tamara Sobomehin a few times yesterday (March 6) to hear her thoughts, but she did not respond.
Sobomehin and Vice President Stephanie Fitch were elected after campaigning to reform the district. They joined Marilena Goana-Mendoza to form a new board majority that put Hernandez-Goff on paid administrative leave.
'Huge impact'
Sequoia board member Alan Sarver said that adding a seven-school elementary district to a high school district would change the nature of how Sequoia operates, which could be a problem.
"It's an interesting suggestion that's on the table, with a huge impact," Sarver said. He said there are many things that need to be studied and addressed before he could give an opinion.
Sarver also noted that it can take decades for district boundary changes to occur, so the process of one district absorbing another might take years.
The idea of Sequoia absorbing Ravenswood is set to come up a June 18 Menlo Park council study session.
Ravenswood is a K-8 district that serves about 2,400 students in East Palo Alto and east Menlo Park. Ravenswood has been plagued by low test scores for years. Families have been withdrawing their children from Ravenswood and placing them in charter or private schools. State funding is based on enrollment, so the district's budget has been reduced as students leave.
The Sequoia District has four comprehensive high schools, in Atherton, Woodside, Redwood City and Belmont.
The idea of combining the two districts has led to some befuddlement from officials who would decide where this proposal will go.
Sequoia officials caught off guard
Sequoia Board President Georgia Jack said she was "caught off guard and perplexed" by the proposal. She said yesterday she couldn't comment on the idea until she learned more about it. Jack did say she plans on being at the June 18 study session.
Similarly, Sequoia Superintendent Mary Streshly said in an email to the Post that since her district has not been contacted by Menlo Park, "We are not in a position to comment."
Menlo Park Councilman Drew Combs said he thinks the June 18 study session is an opportunity to get all of the jurisdictions together and to have a discussion about the district.
"But also I appreciate that there are new people on the Ravenswood school board after a mandate from voters," Combs said. "I think that (the new board) has to play a real leading role in that discussion."
Mueller and others are also looking at other things to help the Ravenswood district.
East Palo Alto councilman Larry Moody said that he and Vice Mayor Regina Wallace-Jones will be meeting with Ravenswood officials in the next few weeks to talk about what's going on in the district.
Moody also said that Ravenswood needs to lead the discussion of any reform in the district, but said that Mueller's idea is "a reflection on both communities interest to make sure our kids are well served."