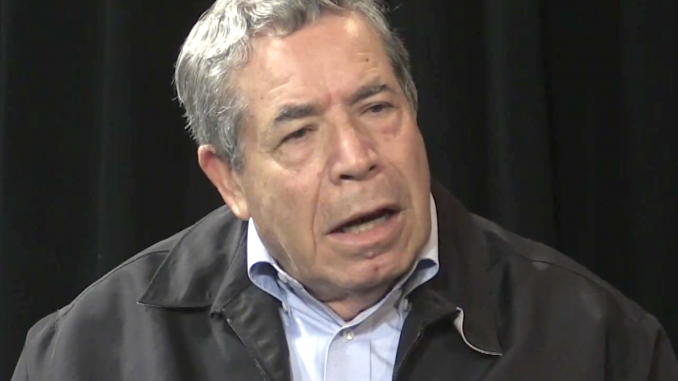 BY ALLISON LEVITSKY
Daily Post Staff Writer
Two months after losing his bid for another turn on Mountain View City Council, former Mayor John Inks showed up at Tuesday (Jan. 8) night's council meeting to berate Job Lopez, the man charged for allegedly spray-painting and stealing Inks' campaign signs.
Inks, a corporate developer-backed candidate who came in last place with 11.7% of the vote, called Lopez, a 74-year-old tenants' rights activist, a "radical hoodlum" who "smeared" his campaign.
Inks went on to accuse Lopez of hypocrisy for continuing to speak out on moral issues at council meetings while showing a disrespect for Inks' freedom of speech.
Then-Mayor Lenny Siegel, a longtime friend of Lopez, who also lost his re-election bid with 15.8% of the vote, broke with normal practice in his final meeting on council and directly responded to Inks from the dais, which is not normally allowed for council members during public comment.
Siegel reminded Inks that he and other candidates had denounced the sign vandalism the first time it took place and were all "very sorry" it happened.
Lopez pleaded innocent to the misdemeanor vandalism charge on Dec. 20. A hearing in his case is scheduled for Jan. 22.
Last night's meeting, which was the last for Siegel and former mayors Pat Showalter and Ken Rosenberg, saw the swearing-in of council members Ellen Kamei, Lucas Ramirez and Alison Hicks.
RV dwellers
Kamei pledged to keep Mountain View socioeconomically diverse and welcoming, providing opportunities for the homeless and RV dwellers and developing new transportation infrastructure. All three outgoing council members urged continued focus on housing and transportation and expressed pride at the thousands of housing units the city had approved in the last four years and its work to plan new neighborhoods in the North Bayshore area.
Dig at Palo Alto
Showalter made a dig at the Palo Alto City Council, noting she was especially proud that the council had approved "a steady stream of affordable housing projects, while our neighbor to the northwest had trouble doing any."
Siegel and Showalter both lost their re-election bids, and Rosenberg didn't run for re-election. In an emotional speech, Rosenberg thanked Siegel and Showalter for being "caring, deliberative and amazing public servants."
"I love you guys," Rosenberg said. "I am also very sad that you lost the election."
Showalter lauded the council for its civility, which she said isn't always the norm in some neighboring cities.
"I was initially shocked to find out that everybody doesn't do it that way," Showalter said. "People are willing to talk about ideas and share new thoughts because they know someone's not going to jump down their throats."
Siegel pledged to continue advocating for public transportation, finding an off-street parking area for people living in vehicles, converting the first three blocks of Castro Street into a pedestrian mall, extending rent control to mobile homes, encouraging residents to drive electric cars and install solar panels on their roofs and establish shared equity housing for first-time homebuyers.
"Mountain View is a regional leader," Siegel said. "When I pursue any of these, one of the things I'm trying to do is to use our progress in Mountain View… as a way to bring our neighbors up to speed with us."
New mayor
Council also unanimously elected Councilwoman Lisa Matichak to serve as mayor and Councilwoman Margaret Abe-Koga to serve as vice mayor in 2019.
Matichak served as vice mayor this year under Siegel as mayor.